Bob White Workouts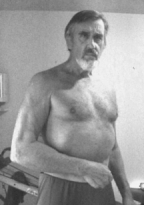 Bob White was born in Montreal, Quebec, Canada in 1932. He has been married 52 years, has a daughter and a son (a bodybuilder/surfer) and three grandchildren. He lives now in Victoria, British Columbia.
Bob is retired (since 1987) from graphic design and cartooning. He worked in Canada, the United States, and the United Kingdom. His last job before retiring was Art Director for IBM Canada for 17 years.
He has a passion for training and fitness, reading books on real life adventure, travel, Ayurveda (a system of traditional medicine native to India), art and artists. He also exhibited as a fine art painter for 17 years.
In the following interview, Bob explains his training history and typical Bob White workouts of today. -LF

Q. How old were you when you began training?
A. It was 1947 and I was 15 when I followed up on an ad for George F Jowett's bodyweight course. I liked his picture better than Atlas's.
Q.Who were your early influences?
A. I saw a photo of John Grimek in Strength & Health and later saw him perform his posing, muscle control and acrobatics. That inspired me to buy the 64lb dumbbell/kettlebell set from Ben Weider in his little home office in Montreal.
I then trained at home and at the dingy little weight room in the basement of our local "Y" with a couple of friends. I seemed to do the odd lifts like pullover, Jefferson lift, hack squat, one arm deadlift and cleans.
I worked on my grip a lot and was later able to rip a deck of cards or the Montreal phone book. A friend's father was an avid bridge player and he had a drawer of discarded cards. I started by ripping about 25 cards and worked my way up to 52. I did the same with old phone books which I collected from my friends when the new book came out.
Q.Do you train now at a commercial health club or at home?
A. I used to use the excellent Recreation Centre, which was built for the Commonwealth Games and has an excellent weight facility but now I train at home. I tend to workout well on my own.
Q. Do you have any favorite pieces of equipment for typical Bob White workouts? Free weights, machines, cables, etc.?
A. I like free weights, preferably dumbbells. I like the stabilizing effect of standing using one or two dumbbells for exercises requiring the larger muscle groups. The only time that I lie down or sit is occasionally on my LifeGear Total Trainer or stationary bike. I also enjoy expanders like the Sierra Hooks & Tubing. My bodyweight assist belt as shown in the photo (below) is attached to a chinning bar. It is also useful for isometrics while standing on it. Sierra also has a belt which is used with their hooks.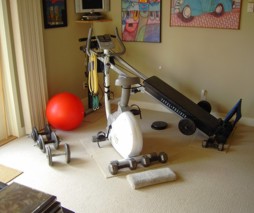 Q.Are there any particular kinds of Bob White workouts?
A. I guess it is obvious that I like variety so decide daily which workout to do. Could be a mixture of bodyweight, dumbbells, isometrics and expanders. Generally I favour doing super-slow movements 10 seconds in each direction for intensity but also do some ballistic movements.
Q. What for you would be a typical weekly training format?
A. I always meditate first and then six days a week before breakfast start with 15 minutes of Yoga stretches. I then warm-up with a set of Chin-ups and Dive Bombers followed by 20-30 minutes of either dumbbell, bodyweight assist, Total Trainer or isometric exercises.
After breakfast my wife and I go for a 60 minute walk with our dog through the woods by the lake. I use my Exerstrider poles for upper body resistance. Fortunately our climate here on southern Vancouver Island is semi-tropical so we can do it all seasons. In the afternoon, Monday to Friday while my wife Ruth rides the stationary bike and I do some expander work while we watch Dr Oz. I also like to kayak or cycle pulling our dog Tia in her trailer at least once a week.
Q. Do you workout alone or with training partners?
A. In the morning I workout alone. In the afternoon with my wife.
Q. Are you following any particular dietary practices or take supplements?
A. We've been lacto-ovo vegetarians since 1960 and presently I take whey powder, a bit of creatine and some multi-vitamins. I study Ayurveda so try to eat according to my body/mind type.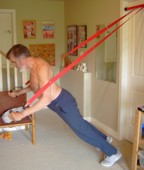 Q. What is your personal fitness philosophy or training advice to seniors?
A. Presently I'm more process oriented than goal oriented. My aim is to stay fit, healthy, retain muscle mass and avoid injury. I think of my body as a partner to the mind rather than treat it as a slave to my will. My philosophy is "It's the going, not the getting there, that has to be the fun!"
My advice to fellow seniors is to not worry what you were able to do in the past but enjoy what you are able to do today.