Gray Iron Books


"I don't care if you are male or female, 50-, 60-, 70-years-old or more. The right kind of training will make you stronger, healthier — and, yes, better looking, too!" --Logan Franklin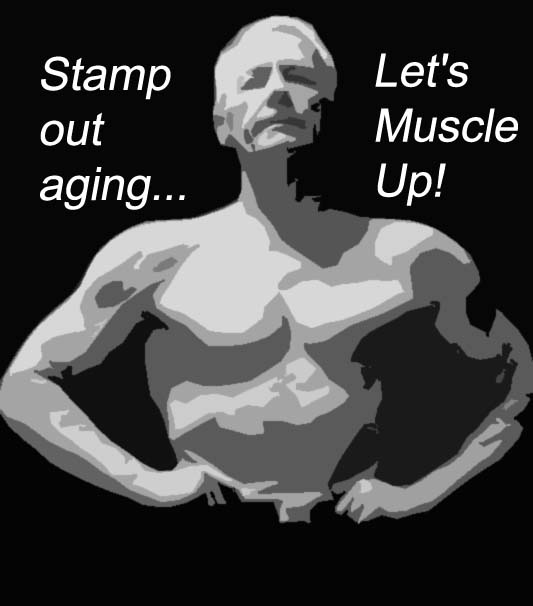 The Gray Iron Books


Gray Iron: A Fitness Guide for Senior Men and Women
(Beginners'Level)

Living the Fitness Lifestyle
(Experienced Trainees)
Beginner's Level . . .
If you are 50-years-old or more, and a beginner, or you were once fit but have been away from regular exercise for a long time, this Gray Iron book is for you.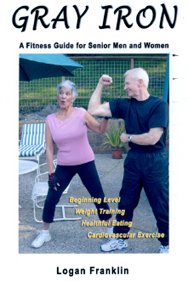 Gray Iron: A Fitness Guide for Senior Men and Women
The most affective strength and fitness programs known combine weight training with cardiovascular exercise. It doesn't matter if you're a world class athlete or an average man or woman. Weights and cardio are the premier formula for optimal fitness.
Here is what's included . . .
Weight Training
Gray Iron starts at the beginning level of training and coaches you through three months of progressive resistance training. Each exercise is demonstrated with clear photographs and a written description. You will learn how often to exercise, where the best places are to exercise, the equipment needed, how long to rest between exercises and exercise sessions, and much more. It is a complete beginners' course.
---
Until now, I had no real direction.
"I recently ordered your fitness manual and have started a regular training routine. I had all the weights and a bench, I just didn't use them. Until now, I had no real direction." -- E.G., Madison, AL
---
Know what to eat . . . and how much
Discover an affective and nutritious way to eat that will normalize your weight and body fat percentage. Supplements are covered too: which ones may be helpful and which are a waste of money. You won't find promises of the latest "breakthrough" diet, however, or overblown claims about unproven anti-aging potions, pills, and secret formulas. You get solid, real world nutrition guidance.
Cardiovascular Exercise
Discover how to get affective cardiovascular exercise in an easy-to-follow way that fits in perfectly with your weight training. You will go from easy walks around the block (or on a treadmill, if you choose) to striding over hills -- and enjoying it.
---
Biochemistry Professor Gets Results with Gray Iron Book
"About a year and a half ago I bought and read both of your books and worked my way through your program, while going on a low glycemic load diet. I'm a 70-year old retired guy who had a heart attack and bypass surgery 18 years ago. I now work out three days per week and jog two miles on the off days. I've dropped about 16 lbs, now weigh 144 lbs (5'10") and am back into 32 inch waist pants for the first time in probably 35 years.
"Before retirement I was a professor and not a person who was ever particularly interested in body-building/physical training, so this has all been quite remarkable and satisfying to me, that is, there have been some real psychic rewards in getting in such good condition at an age I wasn't sure I would even reach 18 years ago. My field is biochemistry and I have a pretty good BS detector when it comes to 'health foods and supplements'; however, I believe your nutritional recommendations are sound, as well. Cheers!" — John C., AZ
---
Many sources provide solid bodybuilding and fitness advice. However, information specifically for seniors isn't as plentiful. If you are close to 50, 60, 70, or more, why not follow a plan specifically created for mature adults? Gray Iron books do exactly that.
This step-by-step guide will end any confusion and guessing about training with easy-to-follow directions for mature beginners. It is written in plain, non-technical English.
Gray Iron: A Fitness Guide for Senior Men and Women is 8-1/2 x 11, fully illustrated, and wire-o bound, making it easy to flip page-to-page for quick references while working out. I think you'll love it. But if it doesn't meet your expectations, send it back for a full no-questions-asked refund. It just doesn't get any simpler or more straightforward than that . . . and a real world value at only $19.95.
---


Experienced trainees . . .

Here is the more advanced companion to the Gray Iron books for beginners.



Living the Fitness Lifestyle is especially for experienced men and women trainees at age 50 and above.
Any senior who is serious about strength, health, and fitness would want and profit from this Gray Iron book.
Included are . . .
Lifetime Nutrition Guidelines.
Answers to your health, fitness and training questions.
Chapters on what works and what doesn't.
All the workout formats you will ever need for the gym or health club, in your home, or on the road.
If you are over 50 and you workout, this book is for you. For the price of a couple of lattes at Starbucks you'll have at hand Living the Fitness Lifestyle. That's right. Only $19.95 . . . and as always it comes with a full money back guarantee.
Order Here.

Retrun from Gray Iron Books to the Senior Exercise Central home page.