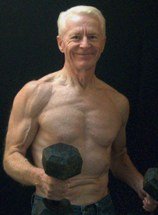 ---
In today's May 15, 2009 newsletter . . .
FDA Goes After Hydroxycut





---
FDA Goes After Hydroxycut
How many times have we learned about some bogus diet supplement being either worthless and/or dangerous? It is astounding.

On May 1st, the U.S. Food and Drug Administration warned consumers to immediately stop using Hydroxycut products by Iovate Health Sciences Inc. Some Hydroxycut products are associated with a number of serious liver injuries.

And still companies make millions off those who refuse to accept the fact that there are no magic pills. Suckers or not, it's a shame when people are harmed by products that are sold by promising miracles.

The only thing that works for losing fat and is healthful is eating less and doing more. Period.
---
---
---
---

The Gray Iron Fitness Newsletter is a free publication sent twice monthly to our subscribers. Our purpose is to provide honest and realistic fitness information for people age 50 and above.

Always consult with your physician before making dietary changes or starting an exercise program.

Your comments or questions are always appreciated.

Sincerely,

Logan Franklin
The Gray Iron Fitness Newsletter
www.senior-exercise-central.com
---