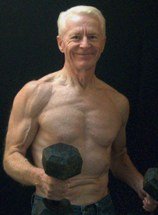 ---
In today's July 1, 2010 newsletter . . .


Biggest Loser Questions


Vacation Workout: 20 Minute Ladders




---

Biggest Loser Questions
I watched the Biggest Loser for most of the same reasons people are drawn to the boot camp scenes in the movie Full Metal Jacket. There is personal drama, intense struggle -- and torturous workouts with in-your-face screaming from drill instructors Jillian and Bob.

So I watched. But would I train people that way? Absolutely not. Biggest Loser participants are not just overweight and out of shape. They are hugely fat, most have serious underlying medical problems, and many are middle-aged or older. They are not young recruits being transformed at Parris Island. Yet they are pushed to their limits in much the same way.

I stuck with the Biggest Loser for two seasons and that's enough for me. From the start, I questioned some of their methods but suspended my suspicions and criticism. The participants, I told myself, are monitored by medical doctors, so how dangerous can the training be? Moreover, they are so obese, and truly on the fast-track to early death, that extreme measures seem justified. If they lose the killer fat and at the same time inspire others watching to make positive lifestyle changes, over-the-top methods make sense.

Still, the huge weight loses at weekly weigh-ins made me wonder. Anyone who has trained overweight people knows that realistic and healthy weight loss doesn't go much beyond losing two pounds per week. Yet double digit numbers are common on the Biggest Loser. Take off a mere two pounds in a week and you're a slacker. More troubling, though, I watched demands made during "last chance workouts" that looked dangerous.

Am I being fair?

I came across an interview with former Biggest Loser finalist, Kai Hibbard. Is she telling it like it is or just seeking more publicity? Watch and reach your own conclusions.

Then I looked up an article by natural bodybuilder and trainer, Tom Venuto. This seems to me to be a balanced assessment of the program. I think anyone living a fitness lifestyle, or wanting to, will find it worthwhile. Go here.
---
---
Vacation Workout: 20 Minute Ladders
It is summer vacation time in the Northern Hemisphere and here is a travel workout that requires minimal equipment or none at all. It is great for staying in shape when your health club or home gym equipment is unavailable. It's one of my favorites.

Start by selecting four compound exercises that, when combined, work your entire body. Use your imagination to come up with combinations. Here is one example that I like.
Bodyweight Squats
Standard Pushups
Sit-Ups
Squat Thrusts (aka Burpees). If you have access to dumbbells or a barbell, cleans are good a substitute.
If you decide to use a barbell or dumbbells, select a weight you can clean about 12 reps. Using a heavier weight requires too much recovery time between exercises. The idea here is to keep moving at a steady pace without rest periods.

Equipment required: A pencil, a blank sheet of paper, and a clock or stopwatch.

It works like this . . .

Write out the exercises you've selected on your sheet of paper (see below). Now do 1 rep of each exercise. Mark it down on the paper. Without stopping, do 2 reps of each exercise. Mark it down. Do 3 reps, mark it down. Do 4 reps, and, finally, 5.

Now start again at 1 rep, then 2, then 3, and so forth. Do as many ladders as you can in 20 minutes.

The challenge is to keep moving, stopping only long enough to make a check mark and change exercise positions.

When 20 minutes are up, you're finished. Have a drink of water. Then total your reps on the paper so you have a record. It should look something like the following . . .





Sound too easy? Don't be surprised if you have a few sore muscles the next day.


---
You've probably heard about the tremendous benefits of weight training and how you can retain -- or even reclaim -- the attributes of youth . . . Discover the way with . . .

Gray Iron: A Fitness Guide for Senior Men and Women

---
Newsletter Policy
The Gray Iron Fitness Newsletter is a free publication sent twice monthly to subscribers. The purpose is to provide honest and realistic fitness information for people age 50 and above.
I have never been paid or received compensation of any kind to write a positive review or endorse a product. If I say that I personally use a product or service, it is because I find value in it and have paid for it with my own money.
Like newspapers, magazines and television, the newsletter and web site contain advertising and some affiliate marketing links. I receive a commission when people buy the advertised products or services.
The newsletter and web site provide information to help users establish and maintain a fitness lifestyle. But fitness information is not the same as fitness advice, which is the application of exercise and dietary practices to an individual's specific circumstances. Therefore, always consult with your physician for assurance that fitness information, and your interpretation of it, is appropriate for you. Your comments or questions are always appreciated.
Sincerely,
Logan Franklin
The Gray Iron Fitness Newsletter
www.senior-exercise-central.com
---