Hi


---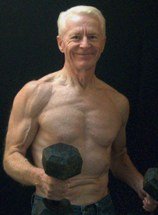 August 1, 2016

In this newsletter . . .
Fitness Books Question Update
The Mall (a follow up)

---
Fitness Books Question Update
My fitness books are no longer in print, and haven't been for several months. I won't go into the details, but my printer and handler, CafePress, discontinued book printing. I looked at other sources and decided not to pursue them. The Senior Exercise Central website and The Gray Iron Fitness Newsletter keep me busy.

I'm terrible at social media and stumble along with Facebook. I admit to sometimes straddling the 20th- and 21st-century. I do some posting on Facebook, but not nearly enough according to those in the know. I don't get the attraction to "tweeting" at all. And what the heck is Pinterest?

But back to the fitness books. Subscribers have asked if the books will be sold again. I've explained that it is very, very unlikely; however much of the material in the books will be included at the Senior Exercise Central website. And it's free.

Here's an example

One section in Living the Fitness Lifestyle explained Escalating Density Training, or EDT, a specialized form of resistance training originated by the coach Charles Staley. I've recently uploaded my adaptation of it to the website. Training information, such as EDT, is listed in the left column on my website pages.

Younger hard core workout seniors, in particular, should expect good, measurable results in size and strength using EDT. Even older guys and gals can have fun and get a boost from it.

I hope you'll visit. And while you're there, please "Like" my website, as the social media experts say I should always ask.
---
If you like the newsletter, we're making it easy to share it . . .


---
The Mall (a follow up)
You never know what items in a newsletter will get the most response. I usually get surprised. That's what happened with the last edition's item, "The Mall." It had nothing to do with increasing bench press strength or building stronger arms. It was about exercise walking – in a shopping mall, of all places.

Before I wrote it I wondered if anyone would be interested? It turns out they were, and more than a few subscribers wrote back. (I love hearing what you have to say, by the way.)

Here's something interesting.

A subscriber, Don R., wrote that he had several years ago read about a group of exercise walkers who got permission from a mall's management to let them in before the stores opened in the morning. The walkers had the mall to themselves to do laps.

What a great idea. I live in the mild, Mediterranean climate of Northern California. But think how nice walking would be in an enclosed mall in places where there's severe winter weather. Walk. Walk. Walk. Stop for some push-ups, and walk again. Great! And if it's storming outside, who cares?

Someone with organizational skills might approach a mall's management to work something out. What's in it for the mall? Management could contact local media about the service they provide the community, promoting good health. A win-win deal, as they say.

There are more mall walkers than I imagined.
---
---

Newsletter Policy

The Gray Iron Fitness Newsletter is a free publication sent twice monthly to subscribers. The purpose is to provide honest and realistic fitness information for people age 50 and above.

I have never been paid or received compensation of any kind to write a positive review or endorse a product. If I say that I personally use a product or service, it is because I find value in it and have paid for it with my own money.

Like newspapers, magazines and television, this newsletter and my web site contain advertising and marketing links. Naturally, I am compensated for these.

The newsletter and web site provide information to help users establish and maintain a fitness lifestyle. But fitness information is not the same as fitness advice, which is the application of exercise and dietary practices to an individual's specific circumstances. Therefore, always consult with your physician for assurance that fitness information, and your interpretation of it, is appropriate for you.

Your comments and questions are always appreciated. Simply click on the "Reply" bottom.

Sincerely,

Logan Franklin
The Gray Iron Fitness Newsletter
www.senior-exercise-central.com
---