Hi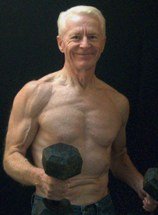 Less is More
I was a skinny kid when I first saw a barbell. It was the early 1950s and my teenage goal was to gain weight and put on muscle. I read Iron Man and Strength & Health magazines, where you'd often see John Grimek or Steve Reeves on their covers. They provided fuel in my quest to get muscular and strong.
I wasn't alone. I always had young workout buddies around. We'd go on a fundamental bodybuilding program, stick with it for a month, pumping iron like crazy, then change the routine and go another month. Diet? You'd eat anything put in front of you, lots of it, with an emphasis of course on protein. And it worked. We all got bigger and stronger.
Of course that was then. Maybe you were once a skinny teenager too, and know the familiar story. But this is now, and today your goals, and mine, are most likely very different. As seniors, they should be to stay as healthy and fit as possible for as long as possible. Pure and simple. But ravenous eating and pounding away, workout-after-workout, and doing the same routine while eating like a horse is probably a bad idea. Instead, portion control eating is a must.
My last newsletter was about the serious national problem of obesity. It got lots of responses. Subscribers agreed, but a few wondered if the frank statistics would be more than some people could handle. No one likes being reminded if they are obese. But that didn't happen. Every response was positive. Of course, the statistics from the CDC speak for themselves. Being overweight, and, particularly, being obese, is a serious problem nationally. Lots of reasons and solutions are offered. But they all come down to two things: as a nation, we eat too much and sit too much.
I like the bagel illustration from the Food Network, which explains a big reason we as a nation eat too much. In 1990, an average bagel was 3 inches in diameter and 140 calories. In 20 years, the size of a bagel has doubled, while calories have increased to 350. They weren't picking on bagels, in particular. Other food illustrations are found here, as well.
Watch the TV food ads. Portion sizes are huge, yet consumers seem to clamor for even more. Conversely, I'm reminded of what the architect Ludwig Mies van der Rohe liked to say about architecture: "Less is more." It wouldn't hurt if van der Rohe's thoughts about art and architecture were also applied to food portions.
Stay healthy. Stay fit.
Logan
---
Are you on Facebook?
Check out the Senior Exercise Central page at . . . https://www.facebook.com/GrayIronFitness

I search the Internet for senior health and fitness items. If you like what you see, please click the Like button. It helps me.
---
Spread the word. If you like the newsletter, we're making it easy to share it
---

Newsletter Policy

The Gray Iron Fitness Newsletter is a free publication sent twice monthly to subscribers. The purpose is to provide honest and realistic fitness information for people age 50 and above.

I have never been paid or received compensation of any kind to write a positive review or endorse a product. If I say that I personally use a product or service, it is because I find value in it and have paid for it with my own money.

Like newspapers, magazines, and television, this newsletter and my website contain advertising and marketing links. Naturally, I am compensated for these.

The newsletter and website provide information to help users establish and maintain a fitness lifestyle. But fitness information is not the same as fitness advice, which is the application of exercise and dietary practices to an individual's specific circumstances. Therefore, always consult with your physician for assurance that fitness information, and your interpretation of it, is appropriate for you.

Your comments and questions are always appreciated. Simply click on the "Reply" bottom.

Sincerely,

Logan Franklin
The Gray Iron Fitness Newsletter
www.senior-exercise-central.com
---