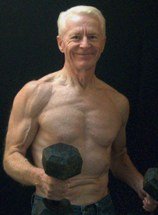 ---
In this letter . . .
Let's Play Cards! (workout)
Dave Brubeck and Longevity
Does Golf Prolong Life?
---
Let's Play Cards! (workout)
From Living the Fitness Lifestyle. —LF

I love the pure grit of this workout. Yet I don't do it very often because at my age it would wear me down as a part of my weekly training cycle. There are ways to tone it down (I'll explain how later). But when I do it, it is mainly to test myself. I use a stopwatch and give it about all I've got. Anyone young and tough enough to weave Let's Play Cards into a weekly workout cycle will get combat hard and super-fit at warp speed.

I also wish I could say I thought up the workout, but I can't. The story goes that the famous American wrestler Karl Gotch introduced it to Japanese wrestlers and judoka to get them in shape fast. They still use it today, I'm told. Here's how it works in the basic Japanese form.

Get a deck of cards. Assign all the black cards to push-ups, and the red cards to squats. Assign face cards a value of 10. Aces are 11. Shuffle the deck and draw a card. Let's say it's a red 7. So you do 7 squats. Draw another card, and say it's a black 9. Now you do 9 push-ups. Keep moving this way until you've gone through the entire deck, which takes about 30-minutes or less for well-conditioned athletes.

You don't have to do it in the pure Japanese form. It's okay to be creative. Personally, I like assigning 4 exercises instead of 2, which I think provides more balance for a full-body workout. For example, I have done bodyweight squats (for hearts), push-ups (for diamonds), squat-thrusts (spades), and sit-ups (clubs). Full-scale masochists may up the intensity even further by doubling the number of any one of the exercises the card value calls for.

Beginners can do the routine if they adjust the intensity and duration by using only the 2s, 3s, 4s, and 5s in the deck, for example. They can gradually "up the ante," so to speak, by adding additional card numbers as their fitness improves, until finally they are using the whole deck.

---
---
Dave Brubeck and Longevity
Because my focus is on exercise and healthful eating, I may at times give short shrift to other important longevity and lifestyle factors.

I thought about this following a Dave Brubeck Quartet concert that Patty and I attended two weeks ago. Brubeck as you may know redefined jazz in the 1950s and also composes works for symphony orchestras.

He lives today in rural Connecticut but was raised on a ranch in the Sierra foothills of Northern California. When I was in high school, a few jazz enthusiast friends and I would drive into San Francisco to hear his quartet at the legendary Blackhawk club. In those days, minors were allowed in clubs as long as they did not drink alcohol.

It was a wonderful time and I saw many great jazz musicians at the Blackhawk, such as Brubeck, Carmen McCrea, Earl Bostic, and Cal Tjader. And the Dave Brubeck Quartet was about as cool as cool could ever be. A young Paul Desmond played sax; Joe Dodge was the drummer; and Bob Bates was on bass.

When Patty and I took our seats at the Davies Symphony Hall, it had been 50 years since I had last seen Brubeck. At 87 years old, he was unsteady walking across the stage and leaned on his saxophone player, Bobby Militello, to get to the piano. Then he began to play, and the years magically disappeared. It was 1955 again at the Blackhawk. Brubeck still has it. He is still the percussive-minded pianist driving his superb quartet. They were terrific, and seniors all.

Of course we can't all be Dave Brubeck. Nonetheless, each of us has interests and passions of our own to discover or rediscover. Personally, I knew that art and fitness were my callings by the time I was a teenager, and probably even earlier than that. What I could do better than most of my peers was draw. And I was always looking for ways to build strength and muscle.

Now I am retired, and I have been for quite some time. Yet I've never really thought of myself as being retired. I'm fortunate to be absorbed in the creative process of making art and promoting the fitness lifestyle. Without these strong interests, or something equally engaging, I don't know where I'd be.

We've all seen people who retire and then vegetate in front of a television set. What a terrible waste. No, we can't all be Dave Brubeck. But somewhere in each of us there are interests and passions only waiting to be rediscovered and released.

One good way to uncover them is by looking backward to our childhood and adolescence. Recall the thoughts, activities, and dreams that sent your imagination and spirit soaring. Those are the clues. Develop interests related to them and experience a personal renaissance.
---
Does Golf Prolong Life?
I am not a golfer. It's a wonderful game that never appealed to me. To me, Mark Twain had it right: "Golf is a good walk spoiled."

But let's give credit where credit is due. According to a study in Sweden, the death rate for golfers is 40% lower than for other people of the same sex, age and socioeconomic status. That adds up to a five year increase in life expectancy. And golfers with a low handicap are the safest.

Now that is a pretty positive outcome. Still I would expect the benefits would be canceled out if too much time is spent afterward at the 19th hole?



---

The Gray Iron Fitness Newsletter is a free publication sent monthly to our subscribers. Our purpose is to provide honest and realistic fitness information for people age 50 and above.

Always consult with your physician before making dietary changes or starting an exercise program.

Your comments or questions are always appreciated.

Sincerely,

Logan Franklin
The Gray Iron Fitness Newsletter
www.senior-exercise-central.com
---