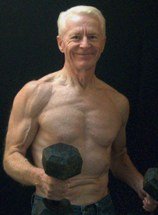 ---
In today's December 1, 2009 newsletter . . .
The Exercise Beginner
Get a Training Partner



---


The Exercise Beginner
A subscriber asked if the holiday season is a poor time to begin an exercise program. She says she has been promising herself to lose some weight and get in shape for months now. But would it be smarter to wait for the start of the New Year?

First, I recognize there are additional pressures this time of year, and, with holiday feasts so common, the temptation to overeat and skip workouts can be overwhelming for many people. On the other hand, if someone is truly committed to clean up his or her act — I say, don't wait. Do it now. And let nothing stand in your way.

But she needs a plan. Without a well thought-out plan, and preferably one that is written down, her chances of failure increase dramatically. Being part of a group, such as Weight Watchers, for example, can also be enormously helpful. For most people, group support is a huge plus. Combining that with group exercise programs at a gym can be a winning combination.

As far as what and how much to eat is concerned, I also like Barry Sears' Zone way of eating, and, of course, my own plan that is explained in my beginner's book Gray Iron: A Fitness Guide for Senior Men and Women.

Exercise programs

Anyone who has never weight trained before should consider getting some lessons from a personal trainer. Or join a class. Or follow my first month's Beginner Program (and it's free). Most people who stick with my program for a month see the results, and then buy my book for a complete three-month blueprint for fitness success.

So my answer to her question about beginning now or waiting for the New Year and resolution time is this: Know thyself. If your commitment to get in shape is truly strong — do it now. Putting something off until later usually indicates weakness in one's will to succeed. Start today.

Those are my thoughts. What advice would you give her?

P.S. A Gray Iron Fitness book can be a terrific Christmas gift for a special friend.
---
---
Get a Training Partner
The following is from Living the Fitness Lifestyle. -LF

Some training habits from the "old days" are worth bringing back. Having a training partner is one of them. I don't know when training partners fell out of favor, but you don't see as much of it in gyms today.

Of course it used to be that most gyms were independently owned and the actual owner would get you started with a routine. Once you got acclimated, you would usually buddy-up with someone. The two of you would spot each other, count reps, and give encouragement. The only personal trainers in those days were the gym owners themselves.

Having two training partners is even better than having one. Generally, the timing and rest period between sets is almost perfect when three people exercise in consecutive order. And for squats and bench exercises, it is ideal having a spotter at each end of the bar.

I have nothing against personal trainers. Many are excellent, and there are people who would not exercise at all without a trainer to direct them. However, employing someone to work with you three days per week is expensive. Most of the time, you and your training partner can figure things out for yourselves, once you learn the fundamentals. You can always arrange for periodic consultations with a personal trainer if further guidance is needed.

Find a training partner, one with similar objectives and a compatible attitude. I'll bet you'll be a convert.
---
You've probably heard about the tremendous benefits of weight training and how you can retain -- or even reclaim -- the attributes of youth . . . Discover the way with . . .

Gray Iron: A Fitness Guide for Senior Men and Women

---

The Gray Iron Fitness Newsletter is a free publication sent twice monthly to our subscribers. Our purpose is to provide honest and realistic fitness information for people age 50 and above.

Always consult with your physician before making dietary changes or starting an exercise program.

Your comments or questions are always appreciated.

Sincerely,

Logan Franklin
The Gray Iron Fitness Newsletter
www.senior-exercise-central.com
---