Hi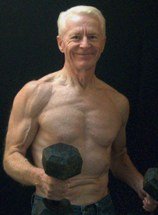 ---
December 1, 2014

In this newsletter . . .
How hard should you train? - part 2

Some time ago, a subscriber, Joe, wrote that he was "thinking of doing P90X but learned that weights three days per week, with two days of cardio, and one of yoga, will work just as well as P90X." He trains at home and added that he's also considered doing Steve Reeves Mr. America routine."

He asked me what I thought about the options.

Successful programs such as P90X, CrossFit, Dragon Door, and others are sold through powerful images on television, websites, and YouTube. Do the systems really work? You bet they do. However, if you are middle-aged or a senior, you should understand a few things about the visual presentations.

The people seen in the workouts are, for the most part, under 50. It is tempting to look at them and convince yourself that by replicating their workouts and effort you can achieve similar results. But most often you will not. And there is a pretty good chance that when you can't keep up, you will assume that being past your prime means you can't improve. There may be some exceptional people in their 50s who are able to train at that level, but as the years pass they too will have to make adjustments.

I mentioned three popular programs and I should be fair in my remarks. Each one - Tony Horton's P90X, CrossFit, or Dragon Door – also offers a program designed for seniors. It would be unfair to make judgments about their value, because I am not all that familiar with them. It could be that they are excellent. However, scaled-down workouts are not what you commonly see featured in the infomercials or at their websites. And my purpose is to suggest age-appropriate programs so that you can choose wisely.

The last program Joe mentioned was the possibility that he might try Steve Reeves' Championship Workout.

Do I think that it is appropriate?

Maybe. Joe did not mention his age. He could be a younger man, although most people who visit my website or subscribe to the newsletter are over 50. So it has to be pointed out that Steve Reeves was in his 20s when he followed that program. He was at the peak of his bodybuilding career. Each training session took him two to three hours to finish. He put himself through this kind of regimen for relatively short periods (about four weeks). It certainly wasn't his maintenance program.

My point again is that boomers and seniors emulating very high volume and/or very high intensity workouts probably will find hem counterproductive, leading to physical or psychological burnout. Personally, I believe any training session lasting more than one hour, and that includes a warm-up and a cool-down, doesn't make sense, if practiced on a regular basis.

There are foolish practices at each end of the fitness spectrum: the sofa-slouchers who do nothing at one end; and at the other extreme are the over-doers who beat themselves up. Be persistent. Never quit. Push forward, but push gently. You'll last longer.

Strongman and author Brooks Kubic likes to refer to "abbreviated training," with basic but fewer exercises per session. He advises that for everyone, and particularly for seniors. The famous architect, Ludwig Mies van der Rohe, said, "Less is more." He was talking about art and architecture; but those three words often apply to other things as well.

As Bob Hoffman said: "Train not strain."
---
If you like the newsletter, we're making it easy to share it . . .


---
---

Newsletter Policy

The Gray Iron Fitness Newsletter is a free publication sent twice monthly to subscribers. The purpose is to provide honest and realistic fitness information for people age 50 and above.

I have never been paid or received compensation of any kind to write a positive review or endorse a product. If I say that I personally use a product or service, it is because I find value in it and have paid for it with my own money.

Like newspapers, magazines and television, this newsletter and my web site contain advertising and marketing links. Naturally, I am compensated for these.

The newsletter and web site provide information to help users establish and maintain a fitness lifestyle. But fitness information is not the same as fitness advice, which is the application of exercise and dietary practices to an individual's specific circumstances. Therefore, always consult with your physician for assurance that fitness information, and your interpretation of it, is appropriate for you.

Your comments and questions are always appreciated. Simply click on the "Reply" bottom.

Sincerely,

Logan Franklin
The Gray Iron Fitness Newsletter
www.senior-exercise-central.com
---