Hi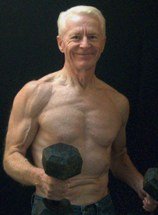 We're No. 1! (Part Two)
Wife Patty and I are football fans. We go to high school games and follow a couple of college and pro teams on TV. No name-dropping, but one of the NFL's superstars was Patty's student in middle school. When he was in college, we once drove across three states to watch him play in a game. So, yes, we are fans.
As a fan, I hated writing the following. But facts are facts.
A couple of years ago, ESPN magazine came out with an issue featuring nude athletes. Near the back page was a group shot of one NFL team's interior linemen. All but one player challenged the scales at well over 300 pounds. Well over three hundred pounds! Though young, fast, and athletic for their immense size, such men's lifespans and, more importantly, their health spans are likely to be shortened.
Vince Lombardi's Green Bay Packers interior linemen of the 1960s — considered huge in those days — would likely play in today's games as svelte linebackers. The game has changed that much, and so has society as a whole. So is bigger better? Watch movies made, say, 50 years ago for context. Look at the crowd and street scenes. Mostly, people were much trimmer than today. (And better dressed too, by the way. Think of Cary Grant in North By Northwest.)
From my book (no longer in print) . . .
"The defeat of famine is the goal of all successful societies. Unfortunately, triumph often evolves into the other extreme—gluttony." —Living the Fitness Lifestyle
As written in the last newsletter, the old advice that the best exercise is to push oneself away from the dinner table makes a lot of sense; because we cannot out-exercise a gluttonous diet. Eventually, all that over-eating and those fast-food mega-calories end up on our waistlines and in coronary arteries.
A recent Joe Rogan interview with Bill Maher regarding "Obesity Being Treated as a Disease" is a worthwhile discussion. You can reach it on YouTube by accessing "Joe Rogan and Bill Maher obesity being treated as a disease."
My thoughts on good nutrition are here.
Stay healthy. Stay fit.
Logan
---
Photographs: Subscribers have asked when the newsletter photo at the top of the page and my website pictures were taken. The photos were taken when I was a mere 70. I'm 86 years old now. Though I remain active, I am no longer nearly as muscular as I was 16 years ago. —LF
---
Are you on Facebook?
Check out the Senior Exercise Central page at . . . https://www.facebook.com/GrayIronFitness

I search the Internet for senior health and fitness items. If you like what you see, please click the Like button. It helps me.
---
Spread the word. If you like the newsletter, we're making it easy to share it
---

Newsletter Policy

The Gray Iron Fitness Newsletter is a free publication sent twice monthly to subscribers. The purpose is to provide honest and realistic fitness information for people age 50 and above.

I have never been paid or received compensation of any kind to write a positive review or endorse a product. If I say that I personally use a product or service, it is because I find value in it and have paid for it with my own money.

Like newspapers, magazines, and television, this newsletter and my website contain advertising and marketing links. Naturally, I am compensated for these.

The newsletter and website provide information to help users establish and maintain a fitness lifestyle. But fitness information is not the same as fitness advice, which is the application of exercise and dietary practices to an individual's specific circumstances. Therefore, always consult with your physician for assurance that fitness information, and your interpretation of it, is appropriate for you.

Your comments and questions are always appreciated. Simply click on the "Reply" bottom.

Sincerely,

Logan Franklin
The Gray Iron Fitness Newsletter
www.senior-exercise-central.com
---