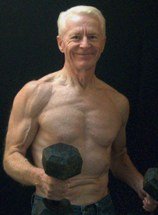 ---
In today's June 15, 2011 newsletter . . .


Cardiovascular Workout Gems


Thoughts on Kettlebells








---
Cardiovascular Workout Gems
The Wall Street Journal periodically runs a feature called "What's Your Workout," providing a variety of fit people to share their personal ways of staying in shape. The most recent one featured a marathon runner who altered his training by "mimicking how our ancestors might have exercised before the advent of high-tech gyms and yoga studios."

The man, his name is Ret Taylor, trains in New York City's Central Park, where he alternately jogs, walks and sprints, interspersed with push-ups, sit-ups, and pull-ups on reachable tree branches. Sometimes he shoulders tree logs for squats and picks up good-sized rocks for overhead lifts.

I am familiar with this kind of cardio-fitness training, or at least something akin to it. The following is from my book, Living the Fitness Lifestyle:

"Fartlek Plus

"Middle-school boys giggle, but Fartlek is simply a Swedish word meaning speed-play. It is a fitness-effective and highly enjoyable cardio workout, especially if you are lucky enough to live near wooded hills, a beach or in mountain country.

"Here is how it works:

"Begin by walking or jogging (give your body time to warm up), and then vary your pace as you go along. Look up ahead; sprint to that tree or signpost 30 or 40 yards up the trail. Now slow down to an easy jog; or walk down a steep hill. Now and then, challenge a hill. Then walk again. Then jog. Be creative. You are combining the joy of healthful exercise with beautiful scenery. Workout time: anywhere between 20 and 45 minutes, depending on the intensity of the sprints.

"That is classic Fartlek. The "Plus" part in the title means adding a few muscle building calisthenics. Let's say you come to a grassy field. Stop and do some push-ups. At another spot, knock out some sit-ups or leg raises. If you spot a strong tree branch you can reach, grab it and get in a few pull-ups.

"Variety is king. Just keep moving: go easy, then hard, then moderate, then easy again, and so forth. Breathe deeply and sweat a little (or a lot). Make it fun.

"A few words of caution: Always tell someone at home where you are going and women especially shouldn't go off in the woods alone. There is safety in numbers. Be smart: Workout with a training partner(s)."

At 74, I do not run long distances anymore. I hike in the hills. When I was running distances, Fartlek Plus always seemed the better way of training. The joint pounding of steady, repetitive long slow distance running often invites or aggravates problems as we get older, in my opinion.

Instead, notice the pace example of soccer games. Soccer players, most people agree, are among the fittest of athletes. And the flow of a soccer match is really a mixture of walking and jogging with periodic all out sprints. It is much like Fartlek and a pretty good cardiovascular fitness model.
---
---
Thoughts on Kettlebells
Several years ago, I took kettlebell workshop led by a husband/wife team, certified by Dragon Door's Pavel Tsatsouline. It was fun and I'm glad I did it, because without a little proper instruction you can easily develop bad lifting habits.

But here's the thing: Seniors often see young martial arts competitors training with kettlebells, and they wonder if this kind of training is appropriate for mature men and women. Without hesitation, I can say that kettlebells can be very senior friendly. It is simply a matter of making proper exercise selection and using good judgment. It's really the same criteria you would apply when doing other free-weights workouts.

Here is something I really like: Andrea Du Cane (often referred to as the "Kettlebell Goddess") has made a terrific instruction video specifically for baby boomers and seniors.

If you've ever wondered about kettlebell workouts, take a look at this brief primer about them. It should answer a lot of your questions and get you on the right path, if you like what you discover.

Kettlebell Primer


---
You've probably heard about the tremendous benefits of weight training and how you can retain -- or even reclaim -- the attributes of youth . . . Discover the way with . . .

Gray Iron: A Fitness Guide for Senior Men and Women

---

Newsletter Policy

The Gray Iron Fitness Newsletter is a free publication sent twice monthly to subscribers. The purpose is to provide honest and realistic fitness information for people age 50 and above.

I have never been paid or received compensation of any kind to write a positive review or endorse a product. If I say that I personally use a product or service, it is because I find value in it and have paid for it with my own money.

Like newspapers, magazines and television, this newsletter and my web site contain advertising and marketing links. Naturally, I am compensated for these.

The newsletter and web site provide information to help users establish and maintain a fitness lifestyle. But fitness information is not the same as fitness advice, which is the application of exercise and dietary practices to an individual's specific circumstances. Therefore, always consult with your physician for assurance that fitness information, and your interpretation of it, is appropriate for you. Your comments and questions are always appreciated.

Sincerely,

Logan Franklin
The Gray Iron Fitness Newsletter
www.senior-exercise-central.com
---