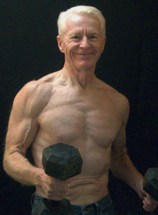 ---
In today's August 15, 2011 newsletter . . .


1,000 Sit-ups


Vacation Workouts








---
1,000 Sit-ups
Recently the Wall Street Journal ran a "What's Your Workout?" article featuring the former golfing great, Gary Player. (You can find the article by clicking on his name at the end of the column.)

I always enjoy the WSJ's "What's Your Workout?" feature and was especially interested in this one because Gary Player is 75 years old, and I turn 75 later this year. When Player was a young man and competing in golf tournaments at the highest level, even non-golfers were curious about him because of his strength workouts. Weight training for athletes was discouraged then, not just for golfers, but even for brutal sports like football. The old "muscle bound" myth was in full bloom. Player's workouts defied the experts.

The WSJ is of course highly regarded for accuracy in reporting, but even they are subject to human error. And that may be the case here. In a photo they show Player in a sit-up position while holding a dumbbell across his chest. The caption reads: "Mr. Player does 1,000 sit-ups with a 100-lb. weight on his chest." Really?

The dumbbell does not look to me like it weighs 100 lbs. Of course, I could be wrong. But I don't think so. Whatever the weight, 1,000 sit-ups is tough going. It is a very decent accomplishment even without a dumbbell on your chest. My guess is that the dumbbell's weight is not an exaggeration on Player's part, but, rather, a human error in reporting.

If I'm wrong and the caption is somehow correct, the man is an absolute beast, and he's 75! And of course I'm as envious as can be.

Find the Gary Player article here.
---
---
Vacation Workouts
It's not too late in the summer to talk about vacation workouts. In fact it may be the ideal time. Most Gray Iron subscribers are boomers or seniors who often wait until kids are back in school and there are smaller crowds before taking to the road for their getaways.

I don't think we should obsess about workouts while on vacation. Yet a vacation shouldn't be a reason to let ourselves go to seed, either. Here are some ideas about how to stay fit while not letting it dominate the day.

I have always loved road trips and discovered a couple of easy to manage solutions for getting in my exercise without allowing it to interfere with the getaway and subtract from enjoying my travel.

Taking along a set of resistance bands, a kettlebell or dumbbells works really well, as they require little space and fit nicely in the trunk of a car. And if you don't want to take any equipment at all, there are simple bodyweight exercise circuits to follow. You just have to decide fitness is important enough to you not to be neglectful.

On long car trips, I make it a point to stop every hour at a rest stop or a gas station/mini mart. I get out, stretch a little, and do 20 push-ups and 20 squats. It takes only a few minutes, and when you get back behind the wheel you are alert and feel great. On drives taking several hours the reps add up and at the end of the day you don't feel like a slug.

Here's another practical idea. Most roadside motels these days have exercise rooms, and, believe me, they are under-utilized. In most motels there is limited equipment, but you probably won't have to share it and can get in an uninterrupted workout. Typically, there will be a treadmill or an exercise bike of some sort and a universal type weight machine.

What I do is decide on an exercise circuit and set my watch for about a 20 minute workout. Let's say you do four exercises like treadmill jogging, overhead pull-downs or cable rowing, push-ups, and bodyweight squats. Jog for two minutes, stop quickly do 10 to 20 pull-downs or rows; do two minutes more on the treadmill, then 10 to 20 push-ups. Keep cycling the four exercises this way for 20 minutes. You'll feel great!

Of course if you brought along your resistance bands or a kettlebell, you won't even have to leave your room for a workout. Afterward, take a shower, have breakfast, and the rest of your vacation day will be in front of you.

Think how much better you will feel when your vacation is over. You'll get right back into to your regular workout routine, without being annoyed with yourself over losing your strength and fitness and expanding your waistline.

Knowing that you treated your body right makes vacation memories all the more satisfying.


---
You've probably heard about the tremendous benefits of weight training and how you can retain -- or even reclaim -- the attributes of youth . . . Discover the way with . . .

Gray Iron: A Fitness Guide for Senior Men and Women

---

Newsletter Policy

The Gray Iron Fitness Newsletter is a free publication sent twice monthly to subscribers. The purpose is to provide honest and realistic fitness information for people age 50 and above.

I have never been paid or received compensation of any kind to write a positive review or endorse a product. If I say that I personally use a product or service, it is because I find value in it and have paid for it with my own money.

Like newspapers, magazines and television, this newsletter and my web site contain advertising and marketing links. Naturally, I am compensated for these.

The newsletter and web site provide information to help users establish and maintain a fitness lifestyle. But fitness information is not the same as fitness advice, which is the application of exercise and dietary practices to an individual's specific circumstances. Therefore, always consult with your physician for assurance that fitness information, and your interpretation of it, is appropriate for you. Your comments and questions are always appreciated.

Sincerely,

Logan Franklin
The Gray Iron Fitness Newsletter
www.senior-exercise-central.com
---