Hi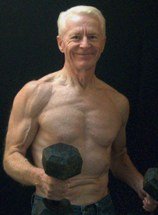 ---
February 1, 2013

In this newsletter . . .
A Senior Follows
Peary Rader's Bigger
Arms in a Day
Workout
I received an interesting note the other day. Barry is a 67-years-old subscriber to The Gray Iron Fitness Newsletter. He read about "Build Bigger Arms in a Day the Peary Rader Way" in the January 1st newsletter and decided to try the workout. In a minute, I'll let him tell you the story.
But first, let me give you a quick summary of how the bigger arms program works. Here is what you do: for one 12-hour period, you do a brief arms workout, every-hour-on-the-hour. If you would like to try it yourself, you can find the details in the December 1, 2012 newsletter here.
Now here is Barry's account of his experience with the Build Bigger Arms in a Day workout:
"I finally got around to trying out the Peary Rader way of building bigger arms, as mentioned in your recent newsletter. As my arms could have done with some development, I thought it was worth a try when other methods seemed to be stubborn.
"My method was a resistance band, of medium strength. I did curls followed immediately by triceps push-downs. (10 each, each session.) I followed rigidly from 6 a.m. to 6 p.m. on the hour every hour.
"I measured the arms not long after I finished the last session and I had thought that even though I didn't keep an accurate record of my measurements, I still did have a rough idea and I believed that there could have been half to a full cm in growth.
"Then about two hours after I had finished the last session and was in bed I felt each bicep and I was amazed at the pump which had come on after concluding. I had never had this size before in my life.
"So I again measured this morning and I would say definitely there was some growth in girth, not to mention how hard they felt.
"I will adopt your recommendation not to do any weight work for two days following (as I did abstain before). I can feel faint stresses on the upper body today.
"So at 67 years I was very pleased with this exercise. Perhaps you may wish to comment on how other blokes have gone with it, either to me individually or in your next newsletter." --Barry
I realize the idea that someone can add arm size in single day may sound like a snake oil sales pitch. That's understandable. But Peary Rader was certainly no con man. In fact, he was the farthest thing from it. He was a good, honest man.
I first read about the program decades ago in his then highly respected Iron Man magazine. (The magazine was sold when he retired in 1986.)
That said, the bigger arms in a day program is not, however, a method for beginners. But if you already have some strength training under your belt and would like to give it a try, you can read about how to go about it in the December 1, 2013 newsletter. I think you'll have fun, and may be pleasantly surprised with the results. If you decide to try it, please let me know what you think.
---
---
You've probably heard about the tremendous benefits of weight training and how you can retain -- or even reclaim -- the attributes of youth . . . Discover the way with . . .

Gray Iron: A Fitness Guide for Senior Men and Women

---
---

Newsletter Policy

The Gray Iron Fitness Newsletter is a free publication sent twice monthly to subscribers. The purpose is to provide honest and realistic fitness information for people age 50 and above.

I have never been paid or received compensation of any kind to write a positive review or endorse a product. If I say that I personally use a product or service, it is because I find value in it and have paid for it with my own money.

Like newspapers, magazines and television, this newsletter and my web site contain advertising and marketing links. Naturally, I am compensated for these.

The newsletter and web site provide information to help users establish and maintain a fitness lifestyle. But fitness information is not the same as fitness advice, which is the application of exercise and dietary practices to an individual's specific circumstances. Therefore, always consult with your physician for assurance that fitness information, and your interpretation of it, is appropriate for you.

Your comments and questions are always appreciated. Simply click on the "Reply" bottom.

Sincerely,

Logan Franklin
The Gray Iron Fitness Newsletter
www.senior-exercise-central.com
---