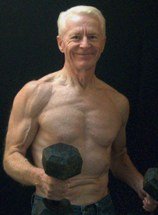 ---
In today's May 1, 2010 newsletter . . .


Predicting The Biggest Loser


The World's Strongest Older Man


Exercise of the Month: Bulgarian Split Squats





---

Predicting The Biggest Loser
I watch it, yet some things about The Biggest Loser TV program annoy me. Advertising pays the way, but, please, give us a break? Thank God for the mute button. I also question some of their methods. Yet my wife and I remain, so far, regular viewers because of the subject: fitness and health vs. obesity and probably early death.

Two weeks ago, the personal finance expert, Suze Orman, was the surprise guest on the show. What's this? I thought. Was she there to explain 401(k) plans? No. Ms. Orman believes there is an association between over-eating and financial irresponsibility. A shaky premise, I thought. On the other hand, maybe not. Read on.

The Biggest Loser people say that last season she successfully predicated which person in that group would win the $250,000. So how did she do it? The best I could have done would have been to narrow it down to a few who seemed the most determined. What she did was ask each contestant his or her FICA score. Then she picked the one with the highest score to win. And it turned out that she was right. Was it mostly luck? We'll see.

Now she was facing this season's final eight contestants. These are the ones who made it through months of tough training and achieved the greatest weight loss of all the beginning contestants, the cream of the crop. I guess you could make a pretty good argument for any one of them being the eventual winner.

Ms. Orman explained that she thought she was ready to predict this season's winner, until she asked the man if he counted calories in a food journal. He said no. So she changed her selection and picked the contestant who is keeping the most meticulous records.

Her reasoning: People who are self-disciplined enough to have high FICA scores and keep an accurate accounting of important matters (dieting to attain a healthy weight), usually have the most self-discipline and will come out on top. In a few weeks we'll see if she is right again.

Meanwhile, anyone having a hard time arriving at or maintaining healthy bodyweight may want to try my method. It works mostly because it is real world practical. Check it out.


---
---
The World's Strongest Older Man
Newsletter subscriber John Kosciak sent a story about "The World's Strongest Older Man," a fellow in New Jersey by the name of Ralph Elsman.

Mr. Elsman is 82, and after 55 years absence from training (he had been a top-notch lifter back in 1950s), he dusted off his weights and began lifting again. His efforts were not merely weight training for good health and conditioning, which would have been impressive enough. He trained by doing the Olympic lifts, the snatch and clean and jerk.

Long story short, he recently won his age group in the National Masters Weightlifting Championships with a clean-and-jerk of 86 kilos, or 189.63 pounds. His snatch lift, which he says is "weak," was 59 kilos, or 129.8 pounds.

When his age (82), his weight (204 pounds), and the amounts he lifted were put into an official scoring formula, he was almost 100 points ahead of the nearest other master lifter. The masters start at age 36. I know that I am impressed.

Yet I offer a few words of caution. While every senior should get up off the couch and establish a regular exercise habit, which includes resistance training, it should be age-appropriate. We can admire Mr. Elsman, but also recognize that what he has done is quite exceptional. After reading the story, a chiropractor responded with the following:

"Chiropractor/Orthopedist Alert:
I bet half the guys over the age of 50 who read this will be motivated to duplicate Mr. Elsman's feat. I predict none will and more than a handful will be seen by a chiropractor or orthopedist within two days of dusting off the old Weider or Billard weights that have been sleeping in the garage for years."

He's right. The Olympic lifts, especially, require not only strength but also proper technique. Even the very young are flirting with injury if they are not coached in proper technique. And half-century-old (or more) bodies are really asking for trouble.

If you have been away from the weights for a long time — or have never lifted at all —start out slowly. Get some instruction from a good trainer. Take a look at my beginners' book, Gray Iron: A Fitness Guide for Senior Men and Women. It will take you from couch potato to strong and fit in a safe, gradual manner. And after that, who knows? You may later challenge Ralph Elsman. But be reasonable starting out.


---
You've probably heard about the tremendous benefits of weight training and how you can retain -- or even reclaim -- the attributes of youth . . . Discover the way with . . .

Gray Iron: A Fitness Guide for Senior Men and Women

---
Exercise of the Month: Bulgarian Split Squats
Make those quadriceps scream! Make them scream for mercy. Bulgarian Split Squats will do it. But that's not all. We hear a lot about "Brazilian Butt Lift Workouts." Well, the Bulgarians also know a thing or two about posteriors. Yes, quads and glutes of steel are a very, very good thing! Discover the split squat here. I can already hear you screaming for mercy.


---
Newsletter Policy
The Gray Iron Fitness Newsletter is a free publication sent twice monthly to subscribers. The purpose is to provide honest and realistic fitness information for people age 50 and above.
I have never been paid or received compensation of any kind to write a positive review or endorse a product. If I say that I personally use a product or service, it is because I find value in it and have paid for it with my own money.
Like newspapers, magazines and television, the newsletter and web site contain advertising and some affiliate marketing links. I receive a commission when people buy the advertised products or services.
The newsletter and web site provide information to help users establish and maintain a fitness lifestyle. But fitness information is not the same as fitness advice, which is the application of exercise and dietary practices to an individual's specific circumstances. Therefore, always consult with your physician for assurance that fitness information, and your interpretation of it, is appropriate for you. Your comments or questions are always appreciated.
Sincerely,
Logan Franklin
The Gray Iron Fitness Newsletter
www.senior-exercise-central.com
---