Hi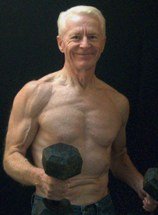 November 1, 2019
In this newsletter . . .
Growing Up
with Barbells
I was a skinny kid when I first saw a barbell. It was the early 1950s and my teenage workout goal was to gain weight and put on muscle. I read Iron Man and Strength & Health magazines. You'd often see John Grimek or Steve Reeves on their covers. It fed my youthful passion.

And I wasn't alone. There were always young workout buddies around. We'd go on a fundamental bodybuilding program, stick with it a month, pumping iron like crazy, then change the routine and go another month. Diet? You'd eat anything put in front of you, with an emphasis of course on protein and more protein. And it worked. You got bigger and stronger.

Of course that was then. Maybe you were once a skinny teenager too, and you know the familiar story. But this is now, and today your goals are very different. As a senior, ravenous eating and pounding away, workout-after-workout, doing the same routine and eating like a horse is probably a bad idea. Unless you're still really skinny, portion control eating is a must.

And what about sticking to that same old workout routine, month-after-month? Not such a good idea either. For one thing, even the most dedicated exerciser can get tired of doing the same exercises endlessly. When you're young, going full-bore with the same basic movements workout-after-workout is just fine. It produces bigger, stronger bodies. But mixing things up usually works better as you get older. It's easier on aging joints, for one thing — and that's a very important thing — while it also defeats boredom. Just be sure any program mixture includes regular doses of resistance work, cardio, and some stretching.

Have you been doing the same routine over and over again, month after month? It's surprising how many people have been doing just that. Now may be a pretty good time to reevaluate your workouts. Here's a sample workout mix that I have followed:

That's just a sample to provide some idea of how you might break things up. Put together a mixture of your own and see if you enjoy the variety. I bet you will.

My own workouts are brief (about 30- to 35-minutes). They're fun, they're balanced, and because of the varied training protocols my chance of overuse injury is practically nonexistent. That's a huge plus as you age.

Important Postscript: Seniors who are total beginners should first begin here.

* * *

Are you on Facebook? If so, please visit my Facebook page. I search the Internet for relevant articles about senior health and lifestyles. Visit: https://www.facebook.com/GrayIronFitness

Best regards,

Logan
---
If you like the newsletter, we're making it easy to share it . . .


---
---

Newsletter Policy

The Gray Iron Fitness Newsletter is a free publication sent twice monthly to subscribers. The purpose is to provide honest and realistic fitness information for people age 50 and above.

I have never been paid or received compensation of any kind to write a positive review or endorse a product. If I say that I personally use a product or service, it is because I find value in it and have paid for it with my own money.

Like newspapers, magazines and television, this newsletter and my web site contain advertising and marketing links. Naturally, I am compensated for these.

The newsletter and web site provide information to help users establish and maintain a fitness lifestyle. But fitness information is not the same as fitness advice, which is the application of exercise and dietary practices to an individual's specific circumstances. Therefore, always consult with your physician for assurance that fitness information, and your interpretation of it, is appropriate for you.

Your comments and questions are always appreciated. Simply click on the "Reply" bottom.

Sincerely,

Logan Franklin
The Gray Iron Fitness Newsletter
www.senior-exercise-central.com
---