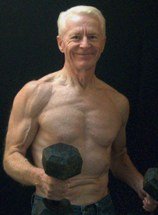 ---
April 1, 2012
Is chocolate actually
good for you?


My wife hides dark chocolate in the pantry. If I ask if there is any chocolate in the house, she will go into the pantry, turn on the light and close the door, so I cannot see where she has hidden the treasure. Then she comes out with my ration.

I'm an adult. I should have the self-control to ignore chocolate even if it is staring me in the face. But I have given in to temptation too many times. As Dirty Harry (Clint Eastwood) said, "A man's got to know his limitations." So the pantry hiding place and doling out my ration is our ritual.

Chocolate is bad for you, right? It adds calories we don't need. So eating it makes you fat, doesn't it? Well maybe not . . . under some circumstances.

Last week, it was reported that a study funded by the National Institute of Health found that people who eat chocolate more frequently tend to be thinner than those who consume it less often. A measure of body fat was also calculated as part of the study.

The report appears to be legitimate. Should chocolate eaters celebrate? Should restraint be thrown to the wind? Not entirely.

The problem with this knowledge is it is similar to our learning that a little red wine daily can be a healthful habit. Unfortunately, plenty of people forget about the word little when it comes to wine drinking, and they overindulge. So before going out and stocking up on Hershey bars, let's look a little deeper into what the study showed.

First, all of the participants in the study were exercisers, those who ate chocolate daily and those who did not. The weight difference among more frequent chocolate eaters was modest but interesting because they consumed additional calories and saturated fat. Chocolate has fat in the form of stearic acid.

But it also contains antioxidants that appear to increase energy-increasing elements in your body's cells. Other chocolate research suggests a modest reduction in blood pressure and cholesterol, too.

So far it all sounds pretty good. But there are details that shouldn't be overlooked. First, a daily dose of dark chocolate - not milk chocolate - is best. Dark chocolate has a higher concentration of antioxidants than milk chocolate and usually has less sugar. It is an important distinction.

Next, the amount of chocolate must be taken into account. Many nutritionists and doctors suggest having about an ounce of chocolate a day, which is less than a regular size chocolate bar. A 1.44-ounce size bar of Dove dark chocolate, for example, contains 220 calories. One hundred twenty of those calories come from fat, according to the label. So it is plain to see how easy it is to get into trouble, calorie-wise, if you overdo it.

Am I suggesting we should all regularly add a little dark chocolate to our diet? I can only say that it seems some of its benefits have been confirmed. I personally eat small amounts of dark chocolate, but not daily. Over all, I pay attention to what I eat and know what practices have worked for others and me.

Though my eating habits are healthful, they are far from extreme. Extreme dietary practices rarely last longer than when the next fad comes along. Practicality is important to me. So my guidelines are easy to follow, with an emphasis on plant based eating, for the most part. Other than my small dark chocolate indulgence, I am very anti-sugar and stay away from processed food.

Anyone looking for healthful dietary practices that are practical in the real world should visit here for a condensed explanation. On a related subject, check out, too, what I think about taking dietary supplements. Whatever you decide about chocolate, the news about it seems to be positive.

Bon Appetit!

---
---
---
In Memory of . . .
This past week, two long time friends passed away, within days of each other.

Betty Cunneen, 78, was a family friend; our children grew up together; her husband, Patrick, and I backpacked in the Sierra Nevada. Betty was a founder, in 1971, and first president of the now nationally renown Pamakid Runners, a Bay Area running club promoting a healthy lifestyle and supporting charitable causes. Betty was a registered nurse with an enormous capacity for balancing family, career, and organizing running competitions.

Richard "Skip" Schurer, 74, was a high school football All-American who was recruited and likely would have starred in Division 1 college football. Instead, he chose the Marine Corps, where we met in 1956. Along with PJ Burns, we were a young, "bullet-proof" USMC threesome for adventures on- and off–duty. Following his service, Skip returned to his native Green Bay, Wisconsin, where he raised a family and lived the rest of his life. Regardless of living in different parts of the country, we remained friends.

God bless both of these good people. -LF
---
---
You've probably heard about the tremendous benefits of weight training and how you can retain -- or even reclaim -- the attributes of youth . . . Discover the way with . . .

Gray Iron: A Fitness Guide for Senior Men and Women

---
---
---

Newsletter Policy

The Gray Iron Fitness Newsletter is a free publication sent twice monthly to subscribers. The purpose is to provide honest and realistic fitness information for people age 50 and above.

I have never been paid or received compensation of any kind to write a positive review or endorse a product. If I say that I personally use a product or service, it is because I find value in it and have paid for it with my own money.

Like newspapers, magazines and television, this newsletter and my web site contain advertising and marketing links. Naturally, I am compensated for these.

The newsletter and web site provide information to help users establish and maintain a fitness lifestyle. But fitness information is not the same as fitness advice, which is the application of exercise and dietary practices to an individual's specific circumstances. Therefore, always consult with your physician for assurance that fitness information, and your interpretation of it, is appropriate for you. Your comments and questions are always appreciated.

Sincerely,

Logan Franklin
The Gray Iron Fitness Newsletter
www.senior-exercise-central.com
---