Hi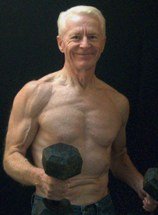 April 15, 2020
In this newsletter . . .
Is time speeding up
or slowing down?
I came across an article about a subject every senior has thought about: "Physics Explains Why Time Passes Faster As You Age." Of course we know that in reality the clock moves at the same speed. But does it really? Science says that mind time cannot be measured on a watch. Confused? I was. A little lengthy, but the answers are explained here.

The article was originally published in January, 2019, a year before the coronavirus appeared. So not taken into account is that being in self-isolation for weeks, in 2020, the opposite time experience may seem quite real. That instead of time speeding up, it may seem to drag on, slowly. It's a symptom of "cabin fever."

* * *

Yes, people are creative. Very creative. One southern California gym owner decided to not passively sit-out coronavirus restrictions that forced his business to shutdown. It's a great story, I think you'll agree. See: Costa Mesa gym is surviving.

* * *

For the still home-isolated, I've dusted off three exercise standbys that require no equipment. They're guaranteed to get your heart pumping, if you push-it; or they can be slowed down for beginners or older seniors.

No. 1. Burpees. For a refresher course, watch the brief video.

No. 2. Mountain Climbers. A favorite of the military. Daughter Jennifer demonstrates.

No. 3. Side Split Squats. Popular in martial arts, for good reason.

* * *

Of all the tools used for analyzing health and fitness, a simple cloth tape measure may be one of the best. Measuring the circumference of your waist will tell you more about your fitness than either scales or the Body Mass Index (BMI) formula. As Jack LaLanne used to say, "Your waistline is your lifeline."

Trainer and author Jon Benson (Fit Over 40) takes the tape measure method a step further, using a waistline-to-height formula as a predictor of heart disease. Mr. Benson tells us to measure right below the navel, and do not pull the tape measure tight. Write down that number in inches. Then measure your height (without shoes) in inches. Write that down too.

Multiply the result of your waist measurement by two. If the number is greater than your height, you are four times more likely to get heart disease. It's more predictive than cholesterol tests, he says.

And the medical profession seems to agree.

Isolated or not, stay active, stay fit, and be well.

Logan
---
Are you on Facebook?
Check out the Senior Exercise Central page at . . . https://www.facebook.com/GrayIronFitness

I search the Internet for senior health and fitness items. If you like what you see, please click the Like button.
---
If you like the newsletter, we're making it easy to share it . . .


---

Newsletter Policy

The Gray Iron Fitness Newsletter is a free publication sent twice monthly to subscribers. The purpose is to provide honest and realistic fitness information for people age 50 and above.

I have never been paid or received compensation of any kind to write a positive review or endorse a product. If I say that I personally use a product or service, it is because I find value in it and have paid for it with my own money.

Like newspapers, magazines and television, this newsletter and my web site contain advertising and marketing links. Naturally, I am compensated for these.

The newsletter and web site provide information to help users establish and maintain a fitness lifestyle. But fitness information is not the same as fitness advice, which is the application of exercise and dietary practices to an individual's specific circumstances. Therefore, always consult with your physician for assurance that fitness information, and your interpretation of it, is appropriate for you.

Your comments and questions are always appreciated. Simply click on the "Reply" bottom.

Sincerely,

Logan Franklin
The Gray Iron Fitness Newsletter
www.senior-exercise-central.com
---