Jack LaLanne


Jack LaLanne died of pneumonia Sunday, January 23, 2011 at his Morro Bay, California home. He was 96. The following was written the year before his passing. -LF


What list of fitness legends would have validity without Jack LaLanne? He is The Man. He was ahead of his time. Way, way ahead.
Born in San Francisco in 1914, today, at 95 years of age, he continues exercising two hours daily (weight training followed by swimming or walking) at his home in Morro Bay, California.
His parents were French immigrants. He claims to have been a sickly youth with serious behavior problems. The story goes that his mother took him to a Paul Bragg seminar that changed his life. He says that he had been addicted to sugar and, after hearing Bragg, he changed his eating habits and dedicated himself to a fitness lifestyle.
He bought weights and started a gym in his backyard while still in high school. A natural entrepreneur and promoter, he showed others how to train, bought more equipment, and at 21 opened a modern gym in Oakland, California.
Some of the exercise equipment found in today's health clubs, such as pulley machines with cables and weight-stack selection systems, were LaLanne innovations. He probably was the first to have women routinely lifting weights, and he urged seniors and people with disabilities to exercise regularly.
Yet when his first gym opened he was criticized from almost all directions. Coaches, for example, warned athletes they would get "muscle bound" if they followed LaLanne's weight training. They threw everything at him. Weight training even causes hemorrhoids, they said, and males won't be able to get an erection.
I wake up every morning with
an erection so hard a cat can't scratch it.
–Jack LaLanne, at age 85!
Many of the scare tactics made newspaper headlines. But gradually the nonsense was exposed for what it was. By the 1980s, his Jack LaLanne European Health Spas was a national chain. Eventually, he sold them to the Bally Company. His TV show ran for 34 years, the longest running television exercise program in history. Today, of course, we see him on TV with his wife, Elaine, selling his Jack LaLanne Power Juicers. And he is still active on the lecture circuit.
He had a huge local following in the San Francisco Bay Area before he became a national celebrity of the fitness world. I remember my mother getting out her Jack LaLanne Glamour Stretcher (a resistance band) every morning when his local TV show came on. When his program went nationwide, women everywhere caught on that resistance exercise was good for them.
Always personable yet audacious
Until 1970, he offered a $10,000 reward to anyone who could keep up with his personal workout. I was acquainted with a top amateur wrestler/bodybuilder who had managed his first gym. He said Jack LaLanne's workouts were incredible gut-busters, and anyone thinking about accepting the challenge had better bring his A-Game. As far as I know, no one ever claimed the reward.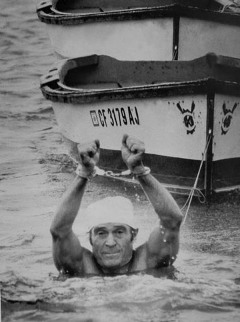 Some of his feats of strength and endurance included doing 1,033 push-ups in 23 minutes on national television, and doing 100 handstand push-ups in less than six minutes.
He made numerous long distance swims — while handcuffed — towing boats filled with observers. Yet these are but a sampling from a long, long list of truly amazing feats.
I do it as therapy.
I do it as something
to keep me alive.
We all need a little discipline.
Exercise is my discipline.
-Jack LaLanne
I began by saying that he was way ahead of his time. And he was. Attacked by athletic coaches and many in the medical profession — for what they themselves routinely recommend today — he persevered and was proven right.

Retrun from Jack LaLanne to the Muscle Stories page.