Senior Exercise Central
Fitness for a Lifetime

The home of . . .
Gray Iron Fitness
and the The Gray Iron Fitness Newsletter
Are you pushing 50 – or (like me) are you well past that?
I'll bet you've heard about the tremendous benefits of exercise and weight training . . . how seniors may slow the aging process and retain – or even reclaim – much of the strength and fitness of youth. Well, it really is true.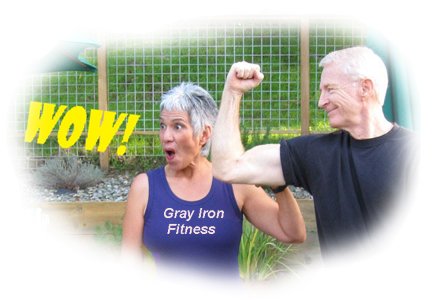 Let me show you how.
I'm Logan Franklin. I wrote the books Gray Iron: A Fitness Guide for Senior Men and Women (for beginners) and Living the Fitness Lifestyle (for the intermediate to experienced trainee).
I know that you want honest and realistic exercise and fitness information, explained in plain, non-technical language. And I promise you will not be insulted with exaggerated claims or secret potions. Prove it to yourself. Click on any category of interest in the column to your left for a wealth of solid and reliable information. At Senior Exercise Central, you'll discover . . .
Weight Training: The most effective progressive resistance training methods and how to get started.
Cardiovascular Exercise: The latest information on keeping your heart and lungs healthy.
Flexibility Options: Stretching, yoga, Pilates, Tai Chi, and Qigong.
Real World Nutrition: How to normalize your body weight while providing energy and the muscle building nutrients you need — without fad diets.
Supplements: Which ones to consider – with your doctor's approval – and which ones may be worthless or even dangerous.
Home Gyms: Should you develop your own gym or join a health club? What equipment will you need to workout at home? Your options and answers are here.
. . . . .

Staying up to date on the latest health information and reliable medical resources is an important part of a healthy lifestyle at Senior Exercise Central.
. . . . .
Gray Iron Books
My step-by-step guidebooks for senior trainees
The following book is especially for intermediate to experienced men and women trainees at age 50 and above. (Total beginners, or those who have been away from training for a very long time, should start with my beginners' book, Gray Iron: A Fitness Guide for Senior Men and Women.) In Living the Fitness Lifestyle you'll discover . . .
Lifetime Nutrition Guidelines.
Answers to your health, fitness and training questions.
Chapters on what works and what doesn't.
All the workout formats you will ever need for the gym or health club, in your home, or on the road.
If you are over 50 and you workout, you will love this book. For the price of a couple of lattes at Starbucks, you'll have at hand Living the Fitness Lifestyle. That's right. Only $19.95 . . . and it comes with a money back guarantee.
A strength and fitness blueprint for senior beginners . . .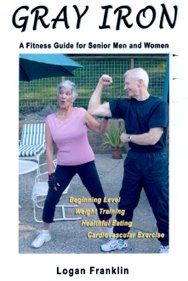 End any confusion and guessing about beginning training with this easy-to-follow book for mature beginners. It is written in plain, non-technical English.
The most affective strength and fitness programs known combine weight training with cardiovascular exercise. It doesn't matter if you are a world class athlete or an average man or woman. Weights and cardio are the premier formula for optimal fitness.
Many sources provide solid bodybuilding, exercise and fitness advice. However, information specifically for seniors isn't as plentiful. If you are close to 50, 60, 70, or more, you should adjust the content, volume and intensity of your workouts. Doing too much too soon may result in overuse injuries or psychological burnout. I will show you how to avoid them.
My promise to you: Follow my step-by-step guide and you will be on the path to greater strength, normal body weight, and vibrant fitness.
For a mere $19.95 you can make Gray Iron: A Fitness Guide for Senior Men and Women your step-by-step road-map to success. Now that is real Senior Exercise Central value!

Order here.

. . . . .
Policy Notes: Like newspapers, magazines and television, Senior Exercise Central and the Gray Iron Fitness Newsletter contain advertising and affiliate marketing links.
The newsletter and Senior Exercise Central provide information to help users establish and maintain a fitness lifestyle. But fitness information is not the same as fitness advice, which is the application of exercise and dietary practices to an individual's specific circumstances. Therefore, always consult with your physician for assurance that fitness information, and your interpretation of it, is appropriate for you.
. . . . .
If you found this information helpful, please share it. Thank you!