Hi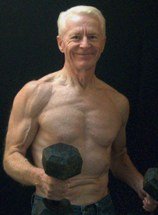 ---
April 1, 2013

In this newsletter . . .
Rectus Abdominis
Let's Play Cards
---
Rectus Abdominis
Apologies to Alfred Lord Tennyson, but Spring is the time when a man's (or woman's) fancy turns to rectus abdominis. Yes, that's right, the abdominals. The gut. Tight, taut abs. Maybe even a six-pack. Summer is on the way and we're reminded: no one wants love handles or a jelly-belly drooping over a belt-line.

Here's the thing: You don't need an actual six-pack to be fit and to look good. But you do need to trim off excess fat and be firm. For those who insist, six-packs are an option, too, if you choose to go all out. Either way, the path to a strong, firm, trim midsection is right here.

But caution: There are plenty of bad ideas that promise to eradicate belly-fat. The crazy stuff is all over the Internet, and even some personal trainers, who should know better, continue to pitch things like spot reducing. Well, it doesn't exist. Don't waste your time. It's too valuable. Get honest information about what's real and what is not, right here. And it's free.

---
---
Let's Play Cards
I love the pure grit of this workout. However, I don't do it very often because at my age it would wear me down as part of my weekly training cycle. There are ways to tone it down (I'll explain how later). But when I do it it is mainly to test myself. I use a stopwatch and give it about all I've got. Anyone young enough to weave Let's Play Cards into a weekly workout cycle will get combat hard and super-fit at warp speed. Guaranteed!

I also wish I could say I thought-up the workout, but I can't. American wrestler Karl Gotch introduced it to Japanese wrestlers and judoka to get them in shape fast. They still use it today, I'm told. Here's how it works in the basic Japanese form.

Get a deck of cards. Assign all the black cards to push-ups, and the red cards to squats. Assign face cards a value of 10. Aces are 11. Jokers are 15, 20, 25, or even 30, whatever you decide before starting the workout. Shuffle the deck and draw a card. Let's say it's a red seven. So you do seven squats. Draw another card, and say it's a black nine. Now you do nine push-ups. Keep moving this way until you've gone through the entire deck, which takes about 30 minutes or less for well-conditioned athletes.

You don't have to do it in the pure Japanese form. It's okay to be creative. Personally, I like assigning four exercises instead of two, which I think provides more balance for a full-body workout. For example, I have done squats (for hearts), push-ups (for diamonds), Burpees (spades), and sit-ups (clubs). Full-scale masochists may up the intensity even further by doubling the number of any one of the exercises the card value calls for.

This routine, as explained above, is not for elderly beginners. Beginners can scale down the routine if they adjust the intensity and duration by using only the 2s, 3s,, 4s, and 5s in the deck, for example. They can gradually "up the ante," so to speak, by adding additional card numbers as their fitness improves, until finally, they are using the whole deck.

Even better, senior beginners should start with a program like Beginning Weight Training.

The Let's Play Cards workout is reprinted from the book Living the Fitness Lifestyle.

---
You've probably heard about the tremendous benefits of weight training and how you can retain -- or even reclaim -- the attributes of youth . . . Discover the way with . . .

Gray Iron: A Fitness Guide for Senior Men and Women

---
---

Newsletter Policy

The Gray Iron Fitness Newsletter is a free publication sent twice monthly to subscribers. The purpose is to provide honest and realistic fitness information for people age 50 and above.

I have never been paid or received compensation of any kind to write a positive review or endorse a product. If I say that I personally use a product or service, it is because I find value in it and have paid for it with my own money.

Like newspapers, magazines and television, this newsletter and my web site contain advertising and marketing links. Naturally, I am compensated for these.

The newsletter and web site provide information to help users establish and maintain a fitness lifestyle. But fitness information is not the same as fitness advice, which is the application of exercise and dietary practices to an individual's specific circumstances. Therefore, always consult with your physician for assurance that fitness information, and your interpretation of it, is appropriate for you.

Your comments and questions are always appreciated. Simply click on the "Reply" bottom.

Sincerely,

Logan Franklin
The Gray Iron Fitness Newsletter
www.senior-exercise-central.com
---