Hi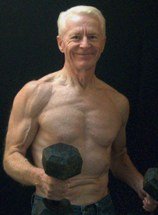 September 15, 2019
In this newsletter . . .
Senior Road Trips
September and October are great vacation months for seniors. Kids are back in school, there are fewer crowds at popular vacation spots, and rates are usually lower. It's our time for getaways.

Patty and I like road trips. In years past, we'd often find local gyms along the way and pay a drop-in fee to workout. As we've gotten older, heavy iron is no longer prerequisite and we use other means. Parks and open space areas are always there for brisk walks. And most motels today have exercise rooms.

Usually, they are small spaces with a treadmill or stationary bike for cardio, and some sort of universal type weights machine for resistance work. Only a couple of times in our travels anywhere have we had to share an exercise room with others. They seem to be the least used spaces in motels or hotels, a sad commentary, generally, but a big plus for the few who use them.

Setting up a 30-minute circuit workout in a motel exercise room is simple. Combine treadmill or bike work with lat pull-downs, overhead presses, crunches, body-weight squats and push-ups. Keep moving from one movement to the next, and repeat the sequence until time is up. Breakneck speed is not required, but don't linger either. Half an hour and you've done your duty. Have a nice shower, breakfast, and enjoy guilt-free driving to your next stopover.

But what if your motel doesn't have an exercise room? I carry a set of resistance bands, just in case. The bands are really convenient and a great value, even as stand alone workout equipment at home. But on a road trip they are invaluable.

Mine are from the Bodylastics company. They fit into a 12" x 12" satchel. It's compact and even the strongest person can get in a workout with the bands. Learn more here.

But what if there's no motel exercise room and you've forgotten to bring along resistance bands? Okay, I love the bands, but you can still get a workout using body-weight only calisthenics.

There really aren't any good reasons to lose overall fitness while traveling. With just a smidgen of planning, it's easy to fit in a thirty-minute exercise habit while on the road, and it only adds to the enjoyment when you return home not having gained unwanted pounds.

Happy Trails.

* * *

Wife Patty and I are football fans. We go to high school games and follow a couple of college and pro teams on TV. I won't name-drop, but one of the NFL's superstars was Patty's student in middle-school. When he was in college, we once drove across three states to watch him play in a game. So, yep, we are fans.

And as a football fan, I loathe writing the following.

ESPN magazine the other day came out with an issue of nude athletes. Near the back page is a group shot of one pro football team's interior linemen. All but one challenged the scales at well over 300-pounds. Though young, and fast for their immense size, such men's lifespans and, more importantly, their health spans are likely to be short.

Vince Lombardi's Green Bay Packers' interior linemen of the '60s — considered huge in those days — would play as svelte linebackers in today's game. The game has changed and so has society as a whole. But is bigger better? Watch movies made, say, 50 years ago. Look at the crowd and street scenes. People, mostly, were much trimmer than today. (And better dressed too, by the way. Think Cary Grant in North By Northwest.)

Guess I'll quote myself . . .

"The defeat of famine is the goal of all successful societies. Unfortunately triumph often evolves into the other extreme—gluttony." —Living the Fitness Lifestyle

The old advice that the best exercise is pushing oneself away from the dinner table makes a lot of sense.

Stay firm. Stay fit.

And happy change of the season,

Logan
---
If you like the newsletter, we're making it easy to share it . . .


---
---

Newsletter Policy

The Gray Iron Fitness Newsletter is a free publication sent twice monthly to subscribers. The purpose is to provide honest and realistic fitness information for people age 50 and above.

I have never been paid or received compensation of any kind to write a positive review or endorse a product. If I say that I personally use a product or service, it is because I find value in it and have paid for it with my own money.

Like newspapers, magazines and television, this newsletter and my web site contain advertising and marketing links. Naturally, I am compensated for these.

The newsletter and web site provide information to help users establish and maintain a fitness lifestyle. But fitness information is not the same as fitness advice, which is the application of exercise and dietary practices to an individual's specific circumstances. Therefore, always consult with your physician for assurance that fitness information, and your interpretation of it, is appropriate for you.

Your comments and questions are always appreciated. Simply click on the "Reply" bottom.

Sincerely,

Logan Franklin
The Gray Iron Fitness Newsletter
www.senior-exercise-central.com
---