My-Home-Gym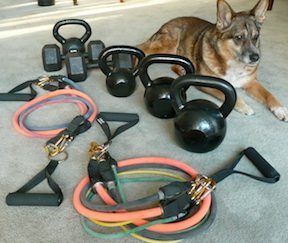 My-home-gym is purposely compact and portable, but a departure from what I was used to. Until a few years ago, I worked out at a commercial gym where there were Olympic bars and plates, assorted barbells and dumbbells, and weight machines. For cardiovascular work, there were various treadmills, stationary bikes, climbers, and aerobics classes. For several years, I led kickboxing classes there and was comfortable with my routine.
Then a few years ago I decided to try something different and experimented with working out at home. After a couple of years I switched back and joined another gym. From time to time, I'll still do a home workout.

Though in my 70s, weight training is still at the heart of my workouts; yet I no longer require Olympic bars, plates, and power racks. However, even people who still need a ton of iron can develop so-called garage gyms (see the George Boedecker Home Gym) if they have the space.
Look again at the equipment in my-home-gym. It can be tucked away almost anywhere and can be moved easily, indoors or outdoors, to fit my workout mood or as the weather dictates. Unless you are a competitive power-lifter or are doing the Olympic lifts (snatch and clean-and-jerk), kettlebells, dumbbells, resistance bands, and/or your own bodyweight can provide all the resistance training you truly require for strength and fitness training.
The only workout items not pictured in my home gym are a Stability ball (I like it for stretching) and an old barbell and plates (for occasional deadlifts) stored next to my pool shed.
What about cardio? My dog, Tyra, shown waiting patiently next to the kettlebells, is my cardio partner. Trails in the open space and hills behind our house beat the heck out of any treadmill or stationary bike I've ever been on. Years ago, I ran on the trails. These days, I hike. The rolling hills provide the perfect easy/hard/easy/hard elevation changes for interval exercise so often recommended for cardiovascular fitness.
Return from My-Home-Gym to the Home Equipment.