Hi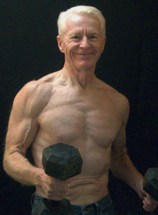 March 15, 2021
In this newsletter . . .
Senior Success
Newsletter subscribers often submit success stories that include smart advice for all. Many have overcome illness or injury, and the stories can be especially inspiring. It's worth our time to read them. Just dive-in anywhere.

Growing older, there comes a time when we cannot train as we once did, and should adjust our workouts accordingly. Those who don't make adjustments may do themselves more harm than good. Aging tendons and ligaments, for example, may rebel and aches and pains become frequent.

Most unfortunate of all are guys (sorry, but it's usually us, the males) whose egos will not allow us to admit we can't do as much as we used to. Ladies seem to be a little wiser in this regard. Sadly, some men just quit working out altogether. If I can't be the guy I was twenty years ago, what's the point of training at all?

And those who quit outright throw in the towel at the time in life when regular exercise is more important than ever. Instead of adjusting to age-appropriate workouts, they drop out. Then what happens? Their muscle loss accelerates while fat accumulates. We've all seen it happen to people we know.

My departed old friend, Rich Lalami, used to say, "You can miss a bus. And you may miss a girlfriend. But never miss a workout." Rich was right. If you have been pushing heavy iron and are now entering your senior years, don't stop training, but do adjust.

Switching from lifting heavy to more moderate weights and higher repetitions can make a world of difference. You might also try using resistance bands (see the 3/1/21 newsletter) rather than lifting free weights. Many professional athletes use resistance bands and love them. Or try devices like the Total Gym. Experiment and do what works best for you, personally.

In my own case, I adjusted my cardio exercise by gradually replacing running with hiking. Years ago, I ran long distances (though I was really just a plodder). However, I noticed a good number of aging runners ran with chronically aching knees and backs. I don't experience any of that from walking/hiking, and I still get to enjoy the beautiful outdoors while exercising my heart and lungs.

Of course if you have no aches and pains at all, maybe that's a different matter. If you fully recover from lifting heavy after a good night's sleep, well, as the saying goes: "If it ain't broke, don't fix it." On the other hand, never ignore the little unpleasant messages that Mother Nature may be sending. Yes, keep on training, but adjust.

Either way, I hope you'll read some of the success stories. You may find someone or something that inspires you personally. Or you may decide to send in your own story. It's easy to do using the form on the Your Stories page.

Seniors who are total exercise beginners, please start here.

Stay healthy. Stay fit.

Logan
---
Are you on Facebook?
Check out the Senior Exercise Central page at . . . https://www.facebook.com/GrayIronFitness

I search the Internet for senior health and fitness items. If you like what you see, please click the Like button. It helps me.
---
Spread the word. If you like the newsletter, we're making it easy to share it
---

Newsletter Policy

The Gray Iron Fitness Newsletter is a free publication sent twice monthly to subscribers. The purpose is to provide honest and realistic fitness information for people age 50 and above.

I have never been paid or received compensation of any kind to write a positive review or endorse a product. If I say that I personally use a product or service, it is because I find value in it and have paid for it with my own money.

Like newspapers, magazines and television, this newsletter and my web site contain advertising and marketing links. Naturally, I am compensated for these.

The newsletter and web site provide information to help users establish and maintain a fitness lifestyle. But fitness information is not the same as fitness advice, which is the application of exercise and dietary practices to an individual's specific circumstances. Therefore, always consult with your physician for assurance that fitness information, and your interpretation of it, is appropriate for you.

Your comments and questions are always appreciated. Simply click on the "Reply" bottom.

Sincerely,

Logan Franklin
The Gray Iron Fitness Newsletter
www.senior-exercise-central.com
---