Hi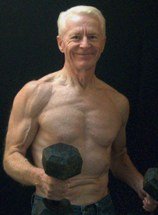 ---
June 15, 2014

In this newsletter . . .
In the good old summertime
Batting cleanup

---
In the good old summertime
As we enter the summer months in the Northern Hemisphere, most of us will be taking vacations of some kind. They could be as extensive as travel to another continent. Or they might be modest getaways to nearby attractions on long weekends.

One dictionary defines a vacation, simply, as "an extended period of recreation, especially one spent away from home or traveling." Whatever form of vacation you may take, mental health experts agree that periodic breaks from daily routine are healthy and important.

For me, road trips are my favorite kind of travel. But I learned years ago that without a little planning they could lead to sacrificing fitness and putting on unwanted pounds. So I came up with a couple of ways to maintain fitness on my trips, while at the same time not letting fret about where to workout become an interruption in my fun and leisure.

On long days on the road, I would make it a point to stop once every hour. At a service station or rest stop I would stretch my legs a bit, and then do 20 pushups and 20 bodyweight squats. So what if I got a few stares from other travelers. It took only a few minutes and when I'd resume driving I'd feel fresh and wide-awake. Try it. On a six-hour drive you'll register 100 pushups and 100 squats.

Motel "fitness centers" is another way to stay in shape. But unless you are staying at a five-star resort, these facilities usually amount to a multi-station exercise machine, a treadmill or stationary bike and a wall-mounted TV in a converted motel sleeping room.

It's not Gold's or 24-Hour Fitness. And though the equipment may be meager, the upside is that only twice in my travels have I had to share a fitness room with another exerciser. So spartan though it may be, it's probably going to be your own private gym.

My tactic is to rise half-an-hour early, go to the exercise room and do a circuit of five movements for 20 to 30 minutes. My workouts look something like the following:
Begin treadmill jogging or bike pedaling two minutes. Stop.
Quickly, move to lat pull-downs or rowing, 10 to 12 reps, on the multi-station exercise machine. Stop.
Move back to the treadmill or bike for two minutes. Stop.
Drop and do 10 to 20 push-ups. Stop.
Quickly, hop back on the treadmill or bike for two minutes. Stop.
Do sit-ups, 20 reps. Stop.
Jog or pedal again for two minutes. Stop.
Do 20 bodyweight squats.
That completes one circuit.
If you keep moving, 20 minutes should take you through the circuit twice. Thirty minutes, three times. You're in and out of the exercise room in half-an-hour or less. Do it at least every other day. You will maintain your strength and fitness while not interrupting your vacation fun one iota.
If you don't like the exercise room idea, bring along resistance bands. A good complete set is feather light and takes up about as much space as a laptop computer. Perfect.
Vacations are meant to be fun but not at the expense of your fitness. With just a little planning ahead you can have both fitness and vacationing fun.
Enjoy it.
---
If you like the newsletter, we're making it easy to share it . . .


---
Batting cleanup
In the item about planking (in the last newsletter), I neglected to mention the importance of breathing normally and not holding your breath. Planking requires keeping tight abs and a straight spine. When holding gets difficult, there's a temptation to strain and hold your breath. Don't do it. Stay tight – but breathe normally. Holding your breath and straining elevates blood pressure. Breathe.

Also: To plank or not to plank, that is the question. A few people wrote to say they like to plank but sometimes experience low-back pain afterward. Remember that some mild muscle soreness is normal after starting any new exercise. But joint or chronic pain is not normal. Suggestion: Try a modified plank. That is, support your lower body on your knees instead of toes, just as you would when doing a modified pushup. However, if you still have chronic pain afterward -- don't plank.

* * * * *

On a morning walk with my dog, Tyra, we passed three older, overweight ladies near the entrance to a golf course pro-shop.

I overhead one of them say how good she felt being on a sugar- and wheat-free diet. I caught only a snippet of the conversation. But I wondered to myself how long she had been eating that way? Because she was, like her two friends, very overweight.

Nevertheless, she was right about getting the sugar out of her diet. But wheat? Maybe. And maybe not. Highly processed wheat products should be avoided by everyone. But whole grain wheat? I don't think so, at least not for most of us.

Gluten is a protein found in wheat. People with celiac disease often do well on a gluten-free diet. But many people who probably don't have wheat intolerance have been jumping on the wheat/gluten-free bandwagon.

They say, "I stopped eating wheat, lost weight and feel great." So they attribute the elimination of gluten, for their good fortune. When their weight loss may be because they're simply consuming fewer calories.

Suggestion: If you think you may have celiac disease, or are otherwise wheat/gluten intolerant, ask your doctor for guidance. It is estimated that about one percent of people have celiac disease. Another small percentage has some other sort of wheat intolerance. Maybe you are part of those narrow percentages. More likely, you're part of the 99 percent majority. Most dietary experts say eating whole grains is good for most people.

My thoughts on good nutrition, in general, are here.
---
---

Newsletter Policy

The Gray Iron Fitness Newsletter is a free publication sent twice monthly to subscribers. The purpose is to provide honest and realistic fitness information for people age 50 and above.

I have never been paid or received compensation of any kind to write a positive review or endorse a product. If I say that I personally use a product or service, it is because I find value in it and have paid for it with my own money.

Like newspapers, magazines and television, this newsletter and my web site contain advertising and marketing links. Naturally, I am compensated for these.

The newsletter and web site provide information to help users establish and maintain a fitness lifestyle. But fitness information is not the same as fitness advice, which is the application of exercise and dietary practices to an individual's specific circumstances. Therefore, always consult with your physician for assurance that fitness information, and your interpretation of it, is appropriate for you.

Your comments and questions are always appreciated. Simply click on the "Reply" bottom.

Sincerely,

Logan Franklin
The Gray Iron Fitness Newsletter
www.senior-exercise-central.com
---