Hi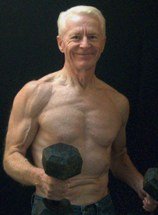 ---
April 1, 2015

In this newsletter . . .
Senior training adjustments
Mountain climbers rock!

---
Fifteen years ago, Bill Phillips wrote a best seller, Body-for-LIFE. During the same period he built the EAS nutritional supplement company into a hugely successful business. While he was at it he also published the fitness/bodybuilding magazine, Muscle Media.

I'll spare the details, but roughly 10 years ago he sold his EAS interests but continued as a successful author and promoter of physical fitness. He is honest about having used steroids as a young bodybuilder, and later came out against their use. In his popular Body-for-LIFE Transformation Challenge, steroid use was absolutely forbidden and any winners would be disqualified for using them.

My wife Patty entered his Transformation Challenge in 2000 and was a top finisher, though not a finalist for the top prize. I witnessed daily her improvement and so I knew firsthand that if someone followed his program, it worked.

I don't know Bill Phillips and have no connection with any of his enterprises. I went on YouTube the other day and looked him up to see what he is doing today. He's 51 years old now (a senior, if you go by AARP's definition) and his training recommendations today take into account mature trainee concerns, such as having older and less resilient tendons and ligaments.

Fifty-one is hardly an age of decrepitude. Yet it is a time in life to recognize that overuse injuries are more likely to occur if age-appropriate training adjustments aren't recognized. And as still more years are added to one's life, physical problems and injuries are almost inevitable for those who try to ignore nature's laws and throw caution to the wind.

Please don't read into this any suggestion that caving-in or giving up training is the way to go as we grow older. No, regular exercise and a fitness lifestyle now may be more important than ever. However, being seniors does mean we should be smarter in how we train, and, realistically, admit that certain practices may no longer be age-appropriate for us and probably ought to be discarded.

In my own case, I was able to practice martial arts off and on all through my 50s. But gradually my body started dropping hints that there would be trouble if I continued. Grappling in particular got to be problematic. So I stopped. Nevertheless, I led cardio kickboxing (non-contact) classes until I was 68. The workouts were challenging and it was great fun. But now another ten years have passed and if I did those same workouts today they would be too much for me, if I could do them at all.

In the weight-training realm, sometime during my 50s, I discovered that heavy barbell squats raised Cain with my lower back. I stopped doing them. But deadlifts and leg presses were okay, and so I did those. I looked back in a training log I kept then and found I was regularly leg pressing for reps over 600-lbs. Today, at age 78, a couple of sets of 12 with about 200-lbs works just fine.

Intellectual maturity tells us that we ought to age adjust our training practices that are likely to cause problems. And we should stop altogether things we know in our heart of hearts are no longer age-appropriate, no matter how much we may have enjoyed them at one time. In other words, stop doing things where the risk outweighs the benefits.

Some seniors reading this may be challenged doing bodyweight only squats. At the other extreme, some, especially young seniors, may still lift without unreasonable strain some very heavy weight. No matter where you happen to be in the age or ability spectrum, keep moving and keep lifting. It's true: If you don't use it, you will lose it. Just don't allow ego to overrule mature judgment. The cost can be too great.

Note: A good place for senior beginners to get solid training information is right here.
---
If you like the newsletter, we're making it easy to share it . . .


---
Mountain climbers rock!
Discover mountain climbers and then add them to your bodyweight only exercise repertoire. Workouts that include goodies such as burpees, side split squats and mountain climbers will serve you well when you're away from the weights, machines or resistance bands. Or mix bodyweight exercises with the weights at the gym. Mountain climbers are a great movement for circuit workouts. You'll learn to love 'em. They really do rock! Daughter Jennifer demonstrates mountain climbers here.
---
---

Newsletter Policy

The Gray Iron Fitness Newsletter is a free publication sent twice monthly to subscribers. The purpose is to provide honest and realistic fitness information for people age 50 and above.

I have never been paid or received compensation of any kind to write a positive review or endorse a product. If I say that I personally use a product or service, it is because I find value in it and have paid for it with my own money.

Like newspapers, magazines and television, this newsletter and my web site contain advertising and marketing links. Naturally, I am compensated for these.

The newsletter and web site provide information to help users establish and maintain a fitness lifestyle. But fitness information is not the same as fitness advice, which is the application of exercise and dietary practices to an individual's specific circumstances. Therefore, always consult with your physician for assurance that fitness information, and your interpretation of it, is appropriate for you.

Your comments and questions are always appreciated. Simply click on the "Reply" bottom.

Sincerely,

Logan Franklin
The Gray Iron Fitness Newsletter
www.senior-exercise-central.com
---