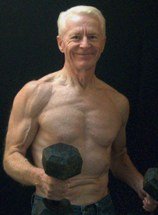 ---
In today's May 15, 2010 newsletter . . .


Fitness Lesson from a Dog


Muscle Stories


Weighted Push-ups are Fantastic





---

Fitness Lesson from a Dog
Steve probably was a Labrador/Catahoula cross-breed. She had been the only puppy in a litter that did not find a home. My daughter Jennifer spotted her and took her, just as her owner was about to take her to the Humane Society.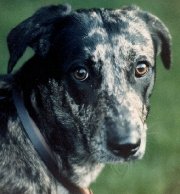 She was a great puppy, but as she matured she displayed soreness in her hips. It turned out that she had serious hip dysplasia. One veterinarian said "she will never be normal" and to consider euthanasia.

We saw another doctor who explained a surgical procedure (an orthopedic specialist would be required) but suggested first reducing her weight by five pounds and giving an anti-inflammatory pill whenever soreness was apparent. Then let's see how it goes.

Steve never required the surgery, and she lived just two month's shy of 14 good years. The two of us hiked and backpacked in the mountains of the western United States and a few in Canada. Once in while she would stiffen up after too much activity and I would give her the medication. The next day she would be fine.

Lesson learned: Often just attaining and keeping normal body weight works wonders in reducing joint pain, and other problems as well. Conversely, lugging around extra weight puts stress on joints and leads to problems and pain. Dogs or people, it's the same either way.

There can be other reasons for joint pain, of course. But so often it is from being overweight or beating yourself up with too much repetitive exercise of the wrong kind. Think of it this way: Even if it turns out that surgery is needed, normal bodyweight and proper exercise habits never hurt anyone. It always helps.


---
---
Muscle Stories
One of the popular stops at my website is Muscle Stories and Fitness Interviews. They're fun to read and there are discoveries to be found.

The subjects are interesting people, from living legends like Jack LaLanne to a young lady called Skwigg, and her quest for high-level fitness -- without obsessing about it. She's funny, and wise.

The names are in alphabetical order. Jump in anywhere. I think you'll enjoy them. Muscle Stories and Fitness Interviews.
---
You've probably heard about the tremendous benefits of weight training and how you can retain -- or even reclaim -- the attributes of youth . . . Discover the way with . . .

Gray Iron: A Fitness Guide for Senior Men and Women

---

Weighted Push-ups are Fantastic
Expand your push-ups horizon. Sure, standard, plain vanilla push-ups are good for us. But there's a wide, wonderful world of push-up varieties waiting to be tried. Here's one example: Discover weighted push-ups.


---
Newsletter Policy
The Gray Iron Fitness Newsletter is a free publication sent twice monthly to subscribers. The purpose is to provide honest and realistic fitness information for people age 50 and above.
I have never been paid or received compensation of any kind to write a positive review or endorse a product. If I say that I personally use a product or service, it is because I find value in it and have paid for it with my own money.
Like newspapers, magazines and television, the newsletter and web site contain advertising and some affiliate marketing links. I receive a commission when people buy the advertised products or services.
The newsletter and web site provide information to help users establish and maintain a fitness lifestyle. But fitness information is not the same as fitness advice, which is the application of exercise and dietary practices to an individual's specific circumstances. Therefore, always consult with your physician for assurance that fitness information, and your interpretation of it, is appropriate for you. Your comments or questions are always appreciated.
Sincerely,
Logan Franklin
The Gray Iron Fitness Newsletter
www.senior-exercise-central.com
---