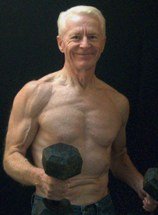 ---
In today's June 15, 2010 newsletter . . .


Advertisements Aimed at Seniors


Training Tip: Nonfat Chocolate Milk
Defeats Sports Drinks


Steve Reeves' Championship Workout



---

Advertisements Aimed at Seniors
To sell us goods or services, it is the business of advertising copywriters to know the needs and concerns of seniors. Two major concerns are: 1) Will I have enough money for a comfortable retirement? And 2) will I stay healthy enough to enjoy it?

I'm not a personal finance expert. But I have seen what happens to people who disregard financial planning for the years after retirement. I have no axes to grind. I don't sell insurance, stocks, bonds or mutual funds. But I have a few solid tips for anyone over 50. You can find them here.

Most financial advertising is about investment or how to protect yourself so you don't run out of money. The ones addressing health are often about long-term health care insurance or senior vitamin supplements, and so forth.

So seniors may be flooded with ads about financial products or vitamin pills. But how many say anything about what happens to seniors if they lose their muscle mass? I hope this does not sound like I'm trying to be funny – because it is a very serious matter.

Sarcopenia is a strange looking Greek word meaning "poverty of flesh." It is what we see in frail, elderly people who are bent over and tottering from a combination of osteoporosis and sarcopenia -- the wasting away of muscle tissue. In our youth, few of us could imagine this ever happening. In the words of country singer, Travis Tritt: "I'm ten feet tall and bulletproof."

Yet inactive men and women over age 30 slowly lose muscle tissue every year. At about age 50 the loss starts happening faster. After age 65, it accelerates even more. Visit a nursing home and witness its ultimate toll. Loss of muscle mass is often the underlying reason many end up there, and remain dependent on others.

We are going to age, all of us. We are going to get old. Yet with regular activity -- particularly resistance exercise -- we really can apply the brakes. We can actually keep sarcopenia at bay. There is a good chance of retaining strength and fitness right up to the end of life. With proper nutrition and resistance training, a fairly high percentage of muscle can not only be retained, some that has been lost can be rebuilt.

On the other hand, poor eating habits and a do nothing lifestyle will greatly accelerate our decline. The choice is ours. It's a great life. Let's not waste a minute of it mistreating ourselves. Get a barbell, dumbbells, a kettlebell, or resistance bands. Use them and you won't have to worry about sarcopenia. Don't put it off. It's one of the best gifts you can give yourself and your family.
---
---
Training Tip: Nonfat Chocolate Milk Defeats Sports Drinks in Test
Old standby nonfat chocolate milk proves superior to sports drinks for post-workout fuel, especially after endurance training.

Get the full story here.
---
Steve Reeves' Championship Workout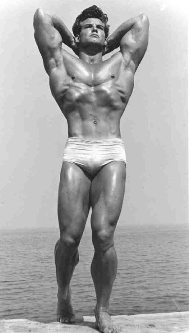 Ever wonder how the late, great Steve Reeves trained? Those were the days when there were few exercise machines and bodybuilders made your own protein supplements out of powdered milk, soy and Knox gelatin. They were the pre-steroid years.

Many think Reeves was the greatest bodybuilder of all time. He trained hard but without split routines requiring being in the gym six or seven days a week. So his training was tough but really a plain vanilla three-days-a-week format, using just dumbbells and barbells. Nothing fancy.

Here is the exact program, which he called "My Championship Workout," to prepare for the Mr. America (1947) and Mr. Universe (1950) competitions. It took two to three hours to complete and was hardly a walk-in-the-park. He had no time for small talk once the workout began. But remember, this was his pre-contest training. It is reasonable to assume his maintenance workouts were not as lengthy or intense.

Upright Rowing, barbell, narrow grip -- 3 x 8-12
Press Behind Neck, barbell, wide grip – 3 x 8-12
Lateral Raises, dumbbells, bent over – 3 x 8-12
Bench Press, barbell, wide grip – 3 x 8-12
Incline Press, dumbbells, thumbs in – 3 x 8-12
Flying Motion, dumbbells, bent armed – 3 x 8-12
Pulldowns Behind Neck, pulley, wide grip – 3 x 8-12
Seated Rowing, pulley, narrow grip – 3 x 8-12
One Arm Rowing, dumbbell – 3 x 8-12
Incline Bench Curl, dumbbells, down the rack, 6 x 5-7
Bench Curl, overhead pulley, bar – 3 x 8-12
Concentration Curls, dumbbell, elbow on knee – 1 x 8-12
Triceps Pushdowns, high pulley, narrow – 3 x 8-12
Triceps Extensions, dumbbell, behind neck – 3 x 8-12
Triceps Crossovers, dumbbell, lying on bench – 3 x 8-12
Parallel Squats, barbell, heels on block, 3 x 8-12
Hack Lifts, barbell, heels on block, 2 x 8-12
Front Squats, barbell, in clean position – 2 x 8-12
Leg Curls, workout partner resistance – 2 x 8-12
Calf Raises, leg press machine – 3 x 20-25
Forward Bends, barbell, seated on bench – 3 x 12-15
Knee Raises, ankle weights, vertical bench – 2 x 20-25
Neck Work, partner resistance, 4 sides – 1 x 15-20
There used to be advertisements that read: "Train like Reeves. Eat like Reeves. Look like Reeves." Well, his methods certainly worked. But I think his DNA may have had something to do with it, too. Notes for the rest of us: Train regularly and never give up. We will be stronger. We will look better, and last longer. But there was only one Steve Reeves.

"Source: Building the Classic Physique the Natural Way, by Steve Reeves.
---
You've probably heard about the tremendous benefits of weight training and how you can retain -- or even reclaim -- the attributes of youth . . . Discover the way with . . .

Gray Iron: A Fitness Guide for Senior Men and Women

---
Newsletter Policy
The Gray Iron Fitness Newsletter is a free publication sent twice monthly to subscribers. The purpose is to provide honest and realistic fitness information for people age 50 and above.
I have never been paid or received compensation of any kind to write a positive review or endorse a product. If I say that I personally use a product or service, it is because I find value in it and have paid for it with my own money.
Like newspapers, magazines and television, the newsletter and web site contain advertising and some affiliate marketing links. I receive a commission when people buy the advertised products or services.
The newsletter and web site provide information to help users establish and maintain a fitness lifestyle. But fitness information is not the same as fitness advice, which is the application of exercise and dietary practices to an individual's specific circumstances. Therefore, always consult with your physician for assurance that fitness information, and your interpretation of it, is appropriate for you. Your comments or questions are always appreciated.
Sincerely,
Logan Franklin
The Gray Iron Fitness Newsletter
www.senior-exercise-central.com
---