Hi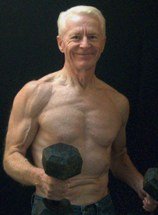 Autumn Getaways
Fall is great for senior getaways or vacations. Kids are back in school, there are fewer crowds at popular vacation spots, and hotel/motel rates are usually lower. It's our time.
Patty and I like road trips. In years past, we'd often find local gyms along the way and pay a drop-in fee to workout. As we've gotten older, heavy iron is no longer a prerequisite and we use other means. Parks and open space areas are always there for brisk walks. And most motels today have exercise rooms.
Usually, they are small spaces with a treadmill or stationary bike for cardio, and some sort of universal type weights machine for resistance work. Only a couple of times in our travels anywhere have we even had to share an exercise room with others. They seem to be the least used spaces in motels or hotels, a sad commentary, generally, but a big plus for the few of us who use them.
Setting up a 30-minute circuit workout in a motel exercise room is simple. Combine treadmill or bike work with lat pull-downs, overhead presses, crunches, body-weight squats and push-ups of some kind. Keep moving from one movement to the next, and repeat the sequence until time is up. Breakneck speed is not required, but keep moving. Half-an-hour and you're finished. Have a nice shower, breakfast, and enjoy guilt-free driving to your next stopover.
What if your motel doesn't have an exercise room? I carry a set of resistance bands, just in case. The bands are really convenient and a great value, even as stand alone workout equipment at home. But on a road trip they are invaluable.
Mine are from the Bodylastics company. They fit into a 12" x 12" satchel. It's compact and even the strongest person can get in a workout with the bands. Learn more here.
But what if there's no motel exercise room and you've forgotten to bring your resistance bands? You can still get a workout using body-weight only calisthenics.
There really aren't any good reasons to lose overall fitness while traveling. With just a smidgen of planning, it's easy to fit in a thirty-minute exercise habit while on the road, and it only adds to the enjoyment when you return home not having gained unwanted pounds.
Happy Trails.
Stay healthy. Stay fit.
Logan
---
Photographs: Subscribers have asked when the newsletter photo at the top of the page and my website pictures were taken. Well, I was a mere 70 then. I'm almost 87 years old now. Though I remain active, I am no longer nearly as strong or muscular as I was 17 years ago. —LF
---
Are you on Facebook?
Check out the Senior Exercise Central page at . . . https://www.facebook.com/GrayIronFitness

I search the Internet for senior health and fitness items. If you like what you see, please click the Like button. It helps me.
---
Spread the word. If you like the newsletter, we're making it easy to share it
---

Newsletter Policy

The Gray Iron Fitness Newsletter is a free publication sent twice monthly to subscribers. The purpose is to provide honest and realistic fitness information for people age 50 and above.

I have never been paid or received compensation of any kind to write a positive review or endorse a product. If I say that I personally use a product or service, it is because I find value in it and have paid for it with my own money.

Like newspapers, magazines, and television, this newsletter and my website contain advertising and marketing links. Naturally, I am compensated for these.

The newsletter and website provide information to help users establish and maintain a fitness lifestyle. But fitness information is not the same as fitness advice, which is the application of exercise and dietary practices to an individual's specific circumstances. Therefore, always consult with your physician for assurance that fitness information, and your interpretation of it, is appropriate for you.

Your comments and questions are always appreciated. Simply click on the "Reply" bottom.

Sincerely,

Logan Franklin
The Gray Iron Fitness Newsletter
www.senior-exercise-central.com
---