Hi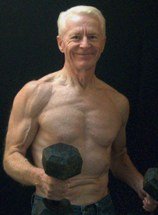 ---
May 1, 2013

In this newsletter . . .
New exercise demonstration videos
Fartlek Plus

---
New exercise demonstration videos
For an unknown reason, many of the exercise demonstration videos on my website went blank. The descriptive text is all there, but in some instances there is no video. As mentioned in the April 15 newsletter, it could be a blessing in disguise. So I'm in the process of entering new demo videos along with some new exercises. My daughter, Jennifer, a trainer, is helping out.

The exercise demo page is always an evolving work in progress. When you go there today, some of the video boxes may still be dark, until I get them all up to date. New ones are being added almost daily. Stay posted.

At the exercise demo page, there are challenging movements for those already in pretty good shape (or in excellent shape); and some are basic exercises suitable for everyone, including beginners. Take a look for exercise ideas next time you're putting together a new workout routine.

The beginners' program videos

My beginners' page is for inexperienced seniors or those who have been away from training for a very long time. It is the first month's program taken from my book, Gray Iron: A Fitness Guide for Senior Men and Women. It walks you through the first month of workouts, step-by-step. And now, for the first time, each exercise in the program will have a demo video. Just click on the exercise name.

The videos, along with the included written explanation of each exercise, makes it possible for even total beginners to get started on a successful program. It's the next best thing to having a senior training specialist standing alongside while you workout.

So although all the videos aren't online yet, new ones are being added almost daily.

A word about my daughter

Jennifer demonstrates many of the exercises in the videos. She was a gymnast, and is a personal trainer and kickboxing instructor. She teaches classes in Austria now, where she lives with her husband, two children; a dog, and miscellaneous other pets: rabbits, fish, hamsters, etc. Their home is in the beautiful foothills of the Alps. Think of the scenery in the movie, The Sound of Music.

Jennifer is only one year from her 50th birthday, so I told her that's close enough to be a senior contributor to Senior Exercise Central. Her background story is here. If you'd like to see her exercise class information, here is her website. Of course since she's in Austria, the text is in German, but you'll get the idea.



---
---
Fartlek Plus
Excerpt fromLiving the Fitness Lifestyle.

Middle-school boys giggle, but Fartlek is simply a Swedish word meaning speed-play. It is a fitness-effective and highly enjoyable cardio workout, especially if you are lucky enough to live near wooded hills, a beach, or mountain country.

Here is how it works:

Begin by walking or jogging (give your body time to warm-up), and then vary your pace as you go along. Look up ahead; sprint to that tree or signpost 30 or 40 yards up the trail. Now slow down to an easy jog; or walk down a steep hill. Now and then, challenge a hill. Then walk again. Then jog. Be creative. You are combining the joy of healthful exercise with beautiful scenery. Workout time: anytime between 20 and 45 minutes, depending on the intensity of the sprints.

That is classic Fartlek. The "Plus" part in the title means adding a few muscle building calisthenics. Let's say you come to a grassy field: Stop and do some pushups. At another spot, knock out some sit-ups or leg raises. If you spot a strong tree branch that you can reach, grab it and get in a few pull-ups.

Variety is king. Just keep moving: go easy, then hard, then moderate, then easy again, and so forth. Breathe deeply and sweat a little (or a lot). Make it fun.

A few words of caution: Always tell someone at home where you are going and women especially shouldn't go off in the woods alone. There is safety in numbers. Be smart: Workout with a training partner(s).

Discover more ideas for cardiovascular training here.


---
You've probably heard about the tremendous benefits of weight training and how you can retain -- or even reclaim -- the attributes of youth . . . Discover the way with . . .

Gray Iron: A Fitness Guide for Senior Men and Women

---
---

Newsletter Policy

The Gray Iron Fitness Newsletter is a free publication sent twice monthly to subscribers. The purpose is to provide honest and realistic fitness information for people age 50 and above.

I have never been paid or received compensation of any kind to write a positive review or endorse a product. If I say that I personally use a product or service, it is because I find value in it and have paid for it with my own money.

Like newspapers, magazines and television, this newsletter and my web site contain advertising and marketing links. Naturally, I am compensated for these.

The newsletter and web site provide information to help users establish and maintain a fitness lifestyle. But fitness information is not the same as fitness advice, which is the application of exercise and dietary practices to an individual's specific circumstances. Therefore, always consult with your physician for assurance that fitness information, and your interpretation of it, is appropriate for you.

Your comments and questions are always appreciated. Simply click on the "Reply" bottom.

Sincerely,

Logan Franklin
The Gray Iron Fitness Newsletter
www.senior-exercise-central.com
---