Hi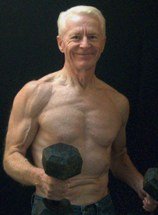 ---
August 15, 2012

In this newsletter . . .
The 350-lb Nutrition Consultant
---
This is a true story about a neighbor, a man who weighed at least 350 lbs. It wasn't 350 lbs. of NFL muscle, either. He owned a mid-size sedan and seeing him get in or out of the car was painful to watch. The irony in the story is that he was a health care provider, a chiropractor who also promoted himself in advertisements as a "nutrition consultant." I often wondered what patients must have thought when entering his office the first time. Try to imagine this morbidly obese man explaining how you should follow a healthful diet.

He was a relatively young man, perhaps in his late 40s or early 50s, when paramedics arrived one day and found him dead. It was probably heart failure, but I never knew for sure. Lots of things can go wrong when you are that obese. I forget who called the paramedics to his home; he was living alone at the time.

This happened maybe 10 or 15 years ago. I wrote about it in my book, Living the Fitness Lifestyle, after another very overweight man had written and asked for some advice. He said he was in his late 50s and weighed 345. As you would expect, he had health problems and his doctor had placed him on a weight loss and exercise program. From what he had written, I got the impression he was taking the doctor's advice seriously and would follow through. I suggested that he work with a good trainer and closely follow the doctor's instructions. Generally, when someone weighs that much it is probably best to begin exercising by walking short distances, and progressively adding time and distance to the walks. A good, practical, balanced diet is of course crucial. Resistance exercise should be added when appropriate.

I lost touch with the man who wrote to me. But I think it is likely that he may have turned his life around. The difference between the two men is that my neighbor, to my knowledge, never asked anyone for help. In spite of his own obvious morbid obesity, he always presented himself as a health expert and had a kind of know–it-all demeanor. False pride and denial can be a fatal combination. The man who wrote to me seemed to be looking for serious help. With his attitude, proper instruction and persistence, there is a good chance he was successful. Who knows what kind of demons my neighbor harbored? But I guess he could not bring himself to be realistic about his own life, and he died young because of it.

If you happen to be a beginner and are overweight or out-of-shape, you can help yourself. And no matter how old you are, you can improve. You just need some guidance. My guideline books are not the only paths to fitness; there are many. But mine are pretty good and specifically for mature adults. No matter what means and methods you choose, you have to make that first effort. And then follow through.

---
---
---
You've probably heard about the tremendous benefits of weight training and how you can retain -- or even reclaim -- the attributes of youth . . . Discover the way with . . .

Gray Iron: A Fitness Guide for Senior Men and Women

---
---
---

Newsletter Policy

The Gray Iron Fitness Newsletter is a free publication sent twice monthly to subscribers. The purpose is to provide honest and realistic fitness information for people age 50 and above.

I have never been paid or received compensation of any kind to write a positive review or endorse a product. If I say that I personally use a product or service, it is because I find value in it and have paid for it with my own money.

Like newspapers, magazines and television, this newsletter and my web site contain advertising and marketing links. Naturally, I am compensated for these.

The newsletter and web site provide information to help users establish and maintain a fitness lifestyle. But fitness information is not the same as fitness advice, which is the application of exercise and dietary practices to an individual's specific circumstances. Therefore, always consult with your physician for assurance that fitness information, and your interpretation of it, is appropriate for you.

Your comments and questions are always appreciated. Simply click on the "Reply" bottom.

Sincerely,

Logan Franklin
The Gray Iron Fitness Newsletter
www.senior-exercise-central.com
---