Hi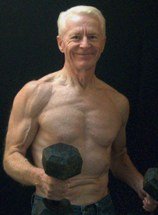 ---
April 15, 2014

In this newsletter . . .
One good workout
A fitness lesson from my dog

---
One good workout
Don't let tax day get you down. Get some exercise. I promise you'll feel better. Here is a good, quick, all around workout, requiring nothing more than a set of dumbbells and your desire to stay strong and fit. It is not, however, a specialty routine to pump-up a bodybuilder's 18-inch arms. That's for another day.

There are just four exercises involved; but when combined they provide a solid, full-body workout. Warm up for a few minutes with some light calisthenics, then proceed with the . . .

(If you're unfamiliar with any of the exercises, click on the text for a short video demo and explanation.)

How many sets?

The number of sets depends on factors like your age and present level of fitness. Or maybe you are pressed for time. Then cycle through the movements once or twice. It's quick and thorough. If you're in good shape, and you're not so rushed, repeat the sequence up to six times.

How much rest between sets?

It depends if your desire is to make it more cardiovascular in nature (or not). You decide. But 30- to 45-seconds works pretty well. A little huffing and puffing usually occurs, after a set or two, but not enough that your form gets sloppy.

(If you aren't able to do side split squats, do standard bodyweight deep knee bends.)

I think you'll like the workout. Properly exhilarated, you may even forget all about it being tax day in the U.S.
---
If you like the newsletter, we're making it easy to share it . . .


---
A fitness lesson from my dog
In the spring of 1985, my daughter brought home a crossbreed puppy nobody wanted. The owner was on his way to the Humane Society with the last puppy in a litter. We named her Steve.

When she matured we realized that she suffered pain in her hips. It turned out to be a severe case of hip dysplasia. One veterinarian said she would never be normal and to consider euthanasia. We said no.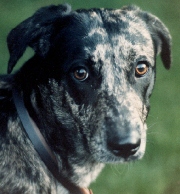 We saw another doctor who explained an expensive surgical procedure requiring an orthopedic specialist. But he suggested, first, reducing her weight by five pounds and giving an anti-inflammatory pill when soreness was apparent. "Then let's see how it goes."
Steve never required the surgery and lived just two month's shy of 14 good years. The two of us hiked and backpacked in the mountains of the western United States and a few in Canada.
Once in a while she would stiffen up after too much activity and I would give her the medication. The next day she would be fine.
Lesson learned: Often just attaining and keeping normal bodyweight stops pain, even when structural problems are the source. Lugging around extra weight puts stress on joints as well as vital organs. With dogs or people, it's the same either way.
Fitness and proper bodyweight will not cure all problems or illnesses. But it will cure some, and it will make almost all more tolerable.
---
---

Newsletter Policy

The Gray Iron Fitness Newsletter is a free publication sent twice monthly to subscribers. The purpose is to provide honest and realistic fitness information for people age 50 and above.

I have never been paid or received compensation of any kind to write a positive review or endorse a product. If I say that I personally use a product or service, it is because I find value in it and have paid for it with my own money.

Like newspapers, magazines and television, this newsletter and my web site contain advertising and marketing links. Naturally, I am compensated for these.

The newsletter and web site provide information to help users establish and maintain a fitness lifestyle. But fitness information is not the same as fitness advice, which is the application of exercise and dietary practices to an individual's specific circumstances. Therefore, always consult with your physician for assurance that fitness information, and your interpretation of it, is appropriate for you.

Your comments and questions are always appreciated. Simply click on the "Reply" bottom.

Sincerely,

Logan Franklin
The Gray Iron Fitness Newsletter
www.senior-exercise-central.com
---