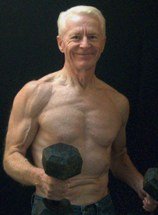 ---
In today's May 1, 2011 newsletter . . .


Shakes and Smoothies are Dietary Delights


Renegade Row Push-Up Combo








---
Shakes and Smoothies are Dietary Delights
Jack LaLanne liked to ask if you would feed your dog donuts and coffee for breakfast. It's a great rhetorical question that was typical of LaLanne. Yet strange as it may seem to those of us living a fitness lifestyle, that is how many people start their day.

Then there are many others who don't eat anything at all in the morning. Yet doctors and nutritionists tell us it is not good to start the day on an empty stomach. It results in overeating and poor food choices later on. We deserve a better start than that.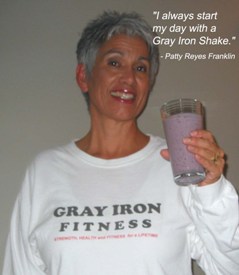 Call it a shake, smoothie, or whatever, but that's the first food Patty and I have in the morning; and we have it soon after rising. A couple of hours later, Patty likes to have oatmeal with nonfat milk and a piece of fruit. I prefer a glass of nonfat milk, a slice of sprouted multi-grain toast with peanut butter, and a banana.
(It works just as well having the oatmeal or toast first and the shake later. We like having the shake first because it fits our schedule and we've gotten used to the sequence.)
After a great start, we are stoked until our midday meal. And we don't experience erratic energy ups and downs brought on by too many caffeine and sugar jolts.
Are you are too rushed in the morning to prepare smoothies or shakes for breakfast? It's easy to make them the night before and put them in the refrigerator. When the alarm goes off in the morning, a great, tasty nutrition blast is right there waiting.
Here is what we put into a blender to make the Gray Iron Fitness Super Shake.
(The following is for two people. Simply, cut the ingredients in half for one person.)
3-tablespoons of freshly ground* flaxseeds.
2-heaping tablespoons of nonfat yogurt containing live friendly bacteria (with no added sweeteners).
2-scoops of unflavored whey protein powder (40 grams of protein).
2-cups of fresh or frozen mixed berries (with no added sweeteners).
2-½ cups of plain, unflavored soy milk (with no added sweeteners).
*Grind the flaxseeds in a coffee grinder.

Wow! It's delicious and loaded with terrific healthful ingredients to really get your day started right: vitamins, antioxidants, omega-3, complete protein, and low-glycemic complex carbohydrates.

Surprisingly, you can also add vegetables such spinach or kale leaves for added nutrients without changing the wonderful berry flavor. Begin with small amounts and gradually add more to find the perfect proportions to suit your taste. Experiment. Discover other vegetable additions you can add and still retain the delicious berry flavor.

Periodically, I include the Gray Iron Super Shake recipe, and every time I do people say they love the taste and how it makes them feel. If you haven't tried it yet, give it a try now; and let me know what you think.

Gray Iron nutrition guidelines here.
---
---
Renegade Row Push-Up Combo
This exercise is a push/pull combination that works your entire upper body. Isolation exercisers won't like it. They'd rather do a push or a pull movement separately. There's nothing wrong with that approach, depending on what you want to accomplish. But if you want to get your whole body involved at once, this combo will do it. And if you go for higher reps, your cardiovascular system will also join in the fun. Give it a try.

See the short demo here.

P.S. For safety, you need matching kettlebells or hexagon dumbbells.

Renegade Row Push-Up Combo


---
You've probably heard about the tremendous benefits of weight training and how you can retain -- or even reclaim -- the attributes of youth . . . Discover the way with . . .

Gray Iron: A Fitness Guide for Senior Men and Women

---
Newsletter Policy
The Gray Iron Fitness Newsletter is a free publication sent twice monthly to subscribers. The purpose is to provide honest and realistic fitness information for people age 50 and above.
I have never been paid or received compensation of any kind to write a positive review or endorse a product. If I say that I personally use a product or service, it is because I find value in it and have paid for it with my own money.
Like newspapers, magazines and television, this newsletter and my web site contain advertising and marketing links. Naturally, I am compensated for these.
The newsletter and web site provide information to help users establish and maintain a fitness lifestyle. But fitness information is not the same as fitness advice, which is the application of exercise and dietary practices to an individual's specific circumstances. Therefore, always consult with your physician for assurance that fitness information, and your interpretation of it, is appropriate for you. Your comments and questions are always appreciated.
Sincerely,
Logan Franklin
The Gray Iron Fitness Newsletter
www.senior-exercise-central.com
---