Hi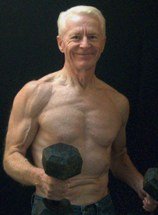 July 1, 2017
In this newsletter . . .
---
Can strength athletes thrive on a vegetarian diet?

The question about weight training and vegetarians comes up often. Before saying more, I want to explain that I'm not a vegan or vegetarian and I'm not trying to convert anyone. However, I would classify my own diet as "plant based," but I also eat some fish, dairy and eggs. By choice, I don't eat beef, poultry, bacon or ham.

Ethics, religion, or health concerns are the usual reasons people give for choosing to be vegetarian. I have my own reasons for not eating meat. However, my purpose here is a narrow one. It is to answer the question: Can serious weight trainees get enough protein and sufficient micronutrients on a vegetarian diet? Yes they can. The great strength athlete and former (pre-steroid) Mr. America, Roy Hilligenn, for example, was super strong and did not eat meat. He wasn't alone. There have been many like him. Bill Pearl and Jack LaLanne instantly come to mind.

So the answer is a definite yes. You can lift weights and get strong on a vegetarian diet. Besides Pearl, LaLalane and Hilligenn there are plenty of other strong men and women who prefer a vegetarian lifestyle and claim to function better following it.

A well-balanced vegetarian diet is a healthful one, but so can be a well-balanced diet that includes lean meat from grass-fed animals. The key, in either dietary practice, is that it is well balanced. Human beings, including strength athletes, have the ability to function quite well eating many different combinations of foods. Still there's no getting around it: most doctors today agree that fruits and vegetables should play a major role even with meat eaters, and too often they don't.

Researcher and author, Dan Buettner, in the "The Secrets of a Long Life," identified five geographic areas in the world where people live statistically the longest. Only one place is in the United States is listed: Loma Linda, California, which is heavily populated by Seventh-Day Adventists and they follow vegetarian diets.

Want to discover more about some well-known vegetarian athletes, please go here.

For general nutrition guidelines, go here.

* * *

Legitimate studies show that many nutrition supplements are worthless, and a few may even contribute to acquiring diseases they are supposed to protect against. What should we believe? My personal view regarding supplements is here.
---
If you like the newsletter, we're making it easy to share it . . .


---
---

Newsletter Policy

The Gray Iron Fitness Newsletter is a free publication sent twice monthly to subscribers. The purpose is to provide honest and realistic fitness information for people age 50 and above.

I have never been paid or received compensation of any kind to write a positive review or endorse a product. If I say that I personally use a product or service, it is because I find value in it and have paid for it with my own money.

Like newspapers, magazines and television, this newsletter and my web site contain advertising and marketing links. Naturally, I am compensated for these.

The newsletter and web site provide information to help users establish and maintain a fitness lifestyle. But fitness information is not the same as fitness advice, which is the application of exercise and dietary practices to an individual's specific circumstances. Therefore, always consult with your physician for assurance that fitness information, and your interpretation of it, is appropriate for you.

Your comments and questions are always appreciated. Simply click on the "Reply" bottom.

Sincerely,

Logan Franklin
The Gray Iron Fitness Newsletter
www.senior-exercise-central.com
---