Hi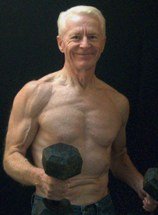 November 15, 2017
In this newsletter . . .
---
Your Workout Venue
The Side Split Squat

---
Your Workout Venue
Patty and I belonged to the same gym for many years. It was independently owned and good place to workout, kind of a cross between the "Big Iron" gyms of yesterday and today's sleeker health clubs. It was a comfortable place, family-friendly, and with reasonable rates. For several years, we led cardio-kickboxing classes there. So we had a special connection.

Yet I always knew that I would eventually switch to training at home. I never had an exact date in mind for making the change, but I knew the time was coming.

Then some years ago, during a rather serious bout with pneumonia, I was away from the gym and my regular routine. And when I began working my way back into shape again, I did it at home.

At first, I did modest repetitions of bodyweight only exercises. Next, I got out a set of resistance bands that I bought from the BodyLastics company and began using those. My plan was to work myself into fairly decent shape at home before returning to my normal pattern at the gym. But something happened along the way. I discovered the challenging workouts I could get just using the resistance bands. The bands I'm talking about are not the lightweight strands with handles attached that you see in aerobics rooms. They are bands that come in a set of various thicknesses and strengths. You can use a single band or combine several by attaching them to handles.

Many professional athletes (NFL quarterback Tom Brady and former wide receiver Terrell Owens come to mind) train with them.

I also have some free weights (kettlebells) at home. I have always taken my cardio in nearby open space preserves, running when I was younger, and walking now. I never cared much for cardio machines, but I have used them during foul weather.

I hope my remarks don't sound like criticism of gyms, health clubs, or the people who belong to them. Because it isn't. Commercial health clubs are great. But so are home gyms, outdoor "boot camps," or any other exercise venue or kind of equipment you happen to like. If you are doing what is right for you, personally, nothing else matters. As long as it keeps you fit.

If you happen to be considering a home gym, I suggest a test run of some sort. Also ask yourself, and be very honest in your answer: Will I actually train at home on a regular basis? Because the image of an expensive treadmill shoved into a corner in the garage, and being used to hang clothes on is all too real. Some people truly need a commercial gym or a trainer to prod them on. Others don't. Know yourself. Then take advantage of any method or place for training that will most likely lead to your success. Few things in life are more important.
---
If you like the newsletter, we're making it easy to share it . . .


---
The Side Split Squat
Side split squats are favorites in many martial arts. They develop leg strength and flexibility at the same time. They may look too difficult to people who haven't done them. But don't be afraid of them. There is a way to ease into side split squats gradually, which is demonstrated here. They are probably a little too advanced for total beginners. But if you have been training for a while and have built a reasonable fitness base, jump right in. Once mastered, both men and women will love them.

Postscript: The video was made when I was a mere 69- or 70-years-old. I can still manage some today. But I don't do them on a regular basis, my joints these days preferring the more standard deep knee bends.
---
---

Newsletter Policy

The Gray Iron Fitness Newsletter is a free publication sent twice monthly to subscribers. The purpose is to provide honest and realistic fitness information for people age 50 and above.

I have never been paid or received compensation of any kind to write a positive review or endorse a product. If I say that I personally use a product or service, it is because I find value in it and have paid for it with my own money.

Like newspapers, magazines and television, this newsletter and my web site contain advertising and marketing links. Naturally, I am compensated for these.

The newsletter and web site provide information to help users establish and maintain a fitness lifestyle. But fitness information is not the same as fitness advice, which is the application of exercise and dietary practices to an individual's specific circumstances. Therefore, always consult with your physician for assurance that fitness information, and your interpretation of it, is appropriate for you.

Your comments and questions are always appreciated. Simply click on the "Reply" bottom.

Sincerely,

Logan Franklin
The Gray Iron Fitness Newsletter
www.senior-exercise-central.com
---