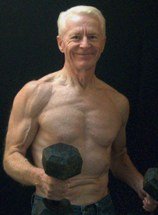 ---
In today's February 1, 2011 newsletter . . .


Jack LaLanne Influenced a Nation


Walking Your Way to Fitness




---
Jack LaLanne Influenced a Nation
Over the years, San Francisco has had more than its share of larger than life personalities. And few of them overshadowed Jack LaLanne.

He died on Sunday, January 23, 2011, at the age of 96. That is a long life, of course, and no one lives forever. Yet somehow it seemed that Jack LaLanne would always be with us, forever nudging us to take better care of ourselves. Our nation knew him well, and the San Francisco Bay Area knew him intimately. His odyssey began here, as a skinny, troubled kid, but one with an iron will and a set of weights in his backyard.

Anyone living a fitness lifestyle is likely to have been influenced by him in some measure. I know that I was. Not long ago, I wrote a brief history and tribute to him on my "Muscle Stories" page. Please take a moment to read it. Some of his feats of muscle endurance were amazing.

Yes, Jack LaLanne was quite a guy. In the fitness world he was, as they say, "The Man."

Jack LaLanne page here.


---
---
Walking Your Way to Fitness
Senior trainer and power lifter George Boedecker passed along an article from the Executive Health Organization, "Make 'Brisk Walking' A Positive Habit."

(Some people discount walking as valid cardiovascular exercise. I think that is a mistaken viewpoint. Walking provides beginners and/or very overweight people with an introduction to the fitness lifestyle. Those already in shape can add hills and a fast pace if they are looking for a challenge. Either way, walking, hiking, or whatever you want to call it, is good exercise. –Gray Iron)

The article follows:

"Walking as a daily exercise habit can truly be a life-changing positive habit and is one of the most powerful habits for reaching your goal of a healthy trim and fit body. Over the past 20 years, there have been dozens of studies that have proven the benefits of brisk walking.

"Thousands upon thousands of people have improved their health and lost weight by the diligent habit of walking. If you think that walking does not provide the same benefits as other more vigorous exercises, think again.

"A study published by the New England Journal Of Medicine showed that postmenopausal women who walked regularly lowered their risk for heart disease just as much as women who did more vigorous exercise, such as playing sports or running.

"This study suggests that walking is just as good for your heart as heavy exercise. I spoke with study author Dr. JoAnn E. Manson, Chief of Preventive Medicine at Brigham and Women's Hospital, Professor of Medicine, at Harvard Medical School. She said, 'The study provides compelling evidence that walking and vigorous exercise provide similar heart benefits, about a 30% to 40% reduction in the risk of cardiovascular disease with 30 minutes per day of either activity.'

"I also asked her about the benefits of making brisk walking a positive habit, and she responded, 'They could surely walk away from heart disease and several other chronic diseases. We have also found that brisk walking for at least 3 hours a week can lower the risk of stroke, type 2 diabetes, and breast cancer. No pain, no gain, is an outdated notion; exercise doesn't need to be strenuous or uncomfortable. It can be easy and enjoyable.' Even though the study consisted solely of women, it is likely that men would experience similar benefits from the positive habit of brisk walking."

Add some resistance training and flexibility movements and you've got the fitness bases covered.

Find out more about walking here.


---
You've probably heard about the tremendous benefits of weight training and how you can retain -- or even reclaim -- the attributes of youth . . . Discover the way with . . .

Gray Iron: A Fitness Guide for Senior Men and Women

---
Newsletter Policy
The Gray Iron Fitness Newsletter is a free publication sent twice monthly to subscribers. The purpose is to provide honest and realistic fitness information for people age 50 and above.
I have never been paid or received compensation of any kind to write a positive review or endorse a product. If I say that I personally use a product or service, it is because I find value in it and have paid for it with my own money.
Like newspapers, magazines and television, this newsletter and my web site contain advertising and marketing links. Naturally, I am compensated for these.
The newsletter and web site provide information to help users establish and maintain a fitness lifestyle. But fitness information is not the same as fitness advice, which is the application of exercise and dietary practices to an individual's specific circumstances. Therefore, always consult with your physician for assurance that fitness information, and your interpretation of it, is appropriate for you. Your comments and questions are always appreciated.
Sincerely,
Logan Franklin
The Gray Iron Fitness Newsletter
www.senior-exercise-central.com
---