Hi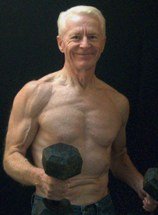 ---
April 15, 2013

In this newsletter . . .
Big Bellies and Dementia
New Exercise Demo Videos

---
Big Bellies and Dementia
In the previous newsletter I wrote about acquiring a firm waistline and even six-pack abs. It is a high interest subject that always gets response, especially as the summer months approach.

Then, coincidentally, I read a few days ago about companies that are planning on penalizing employees for being overweight. Fat employees will have to pay more for their company health insurance.

One company mentioned is Michelin, the tire manufacturer. Women at Michelin, whose waists measure 35 inches or more, and men who measure 40 inches or more, may have to pay as much as $1,000 more for health-care coverage.

The gist of the article is that, generally, companies that have offered incentives, such as paying for health club memberships, etc., have not been very successful at getting overweight people to trim down. On the other hand, penalizing them for being fat, by hitting them in the pocketbook, seems to get their attention. The companies may object to the use of the word penalize, but that's what the policy is, a penalty.

As you would expect, there is opposition to this. Unions and other groups like the idea of company paid incentives, but are opposed to penalties. How it all works out remains to be seen.

When I see obese people – and there are so many these days it's hard not to see them – I often wonder what it would take to motivate them to lose weight. I know that fat people really don't want to be fat. I don't think anybody does.

But if personal pride in their appearance doesn't motivate them to act, what does? I'm a fitness advocate, not a psychologist; still, I know that fear can be a powerful motivator. Watch somebody trim down after surviving a life-threatening event like a heart attack. They fear another one.

Well then, how about fear of dementia? Yes, dementia. People I talk to dread the thought of dementia and nursing homes as much as any dark thought they could imagine. I don't mean to be morbid. But it's a fact and the threat is real.

Should it should be talked about more to drive home the point? Researchers at Kaiser Permanente (the giant hospital/HMO people) suggest that big bellies increase your risk of dementia. And you don't have to be terribly overweight to be at risk. The culprit is an accumulation of belly fat.

So here we are back to abdominals once again. Jack LaLanne may have said it best: "Your waistline is your lifeline."

But I wonder which is more effective: the carrot or the stick? The article suggests the carrot (incentives) hasn't had the effect they hoped for. Now they're trying the stick (penalties). Maybe it has to be a combination of both, the carrot and the stick.

Meanwhile, because you subscribe to a fitness newsletter, you personally don't need to be convinced. But anyone can get realistic trim waistline information, if they want it, right here, and it's free.

---
---
New exercise demo videos are coming soon.
For unknown reasons, most of the exercise demo videos at the Senior Exercise Central website went blank. Maybe it's a blessing in disguise. New and better ones are being made now. We'll let you know as soon as they are finished and online. As always, access to the videos will be free.


---
You've probably heard about the tremendous benefits of weight training and how you can retain -- or even reclaim -- the attributes of youth . . . Discover the way with . . .

Gray Iron: A Fitness Guide for Senior Men and Women

---
---

Newsletter Policy

The Gray Iron Fitness Newsletter is a free publication sent twice monthly to subscribers. The purpose is to provide honest and realistic fitness information for people age 50 and above.

I have never been paid or received compensation of any kind to write a positive review or endorse a product. If I say that I personally use a product or service, it is because I find value in it and have paid for it with my own money.

Like newspapers, magazines and television, this newsletter and my web site contain advertising and marketing links. Naturally, I am compensated for these.

The newsletter and web site provide information to help users establish and maintain a fitness lifestyle. But fitness information is not the same as fitness advice, which is the application of exercise and dietary practices to an individual's specific circumstances. Therefore, always consult with your physician for assurance that fitness information, and your interpretation of it, is appropriate for you.

Your comments and questions are always appreciated. Simply click on the "Reply" bottom.

Sincerely,

Logan Franklin
The Gray Iron Fitness Newsletter
www.senior-exercise-central.com
---