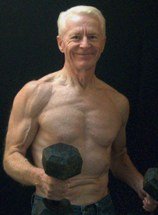 ---
June 15, 2012

In this newsletter . . .
Stability Ball Workouts
Post Heart Attack Report Card

---
Stability Ball Workouts
Stability balls are fairly recent additions to gyms and health clubs in the United States. But they've been used in Europe since 1963, after being developed by Aquilino Cosani, an Italian plastics manufacturer.

In Europe, ball techniques became part of adult treatment for orthopedic or medical problems. They became known as "Swiss Balls" when American physical therapists started using them after seeing their benefits in Switzerland.

Today, they go by a number of different names: stability ball, Swiss ball, fitness ball, yoga ball, and others. They are made of elastic soft PVC and look like giant beach balls that vary in diameter from 14 to 34 inches.

Originally used for physical therapy in clinical settings, ball exercises are now found in athletic departments or as part of general fitness training.

Advocates of ball exercises for strength and fitness say a primary benefit is that your body must respond to the instability of the ball to remain balanced. This in turn engages more muscles than would normally be involved doing the same movements on a flat surface. Usually, the core muscles — those of the abdominal and back — are the focus of exercise ball programs.

I have used fitness balls for abdominal and back exercises and found them to be a good option and a break from the more standard sit-up type movements and back extensions. I have also watched a highly fit woman do almost an entire full-body workout on a ball, moving gracefully and nonstop from one position to the next. I was impressed.

On the other hand, I've also seen personal trainers having clients use the balls as benches for supine dumbbell pressing. Supposedly, high quality stability balls are "burst proof" and can handle substantial weight. That may be true most of the time. Yet not long ago I read a news report of a man breaking both arms when his exercise ball burst while he was supine pressing a heavy set of dumbbells. I would not use a ball for support while holding heavy weights above my body, even one that is labeled as "burst resistant."

I've also seen trainers having clients lift weights while balancing on Bosu balls (a Bosu ball looks kind of like an exercise ball that has been cut in half). The theory is that this training recruits stabilizer muscles while improving your sense of balance.

I think seniors trying to balance on unstable objects while lifting weights is not the smartest way to train. If your goal is to simply improve your balance, I think yoga, Tai Chi, or Pilates are better options.

If you are developing a home gym, I recommend a quality stability ball for core training options. I would look for the "burst resistant" and/or the "slow to deflate" feature. Still, even with those features, I would never use it for doing exercises while holding heavy weights above my body, in either a supine or a standing position.

What size ball should you have? It should be firm when inflated and when you are seated on it your thighs should be about parallel with the floor. Follow the manufacturer's recommended height-to-size guidelines and you will be fine.

---
Post Heart Attack Report Card
Many subscribers have asked that I keep them up-to-date on my progress. So here goes . . .

It has been 90 days since my heart attack. I feel fine and have been active but prudent. For the first time that I can remember, I now regularly take prescription medications. So far, there have been no unpleasant side effects, and my resting heart rate and blood pressure are right where the cardiologists want them to be (i.e. below 120/80, etc.) Though my blood pressure and cholesterol profile were in the normal range before, both have been lowered more.

Diet

I am also getting along quite well with being an "almost vegetarian." What that means is my diet is even more plant based than ever. Whole grain products, various beans and other legumes, fruits and vegetables make up the major part of eating. To a lesser degree, nonfat dairy, egg whites, and some fatty fish such as salmon, trout, or Albacore tuna round things out. Sodium is kept to the barest minimum, and saturate or trans fats of any kind are off the list.

With no coercion whatsoever, my wife Patty decided to follow the same practices, and says she enjoys the food and likes the way she feels. She also dropped seven pounds and that pleased her. Adjusting recipes to these dietary principles is an ongoing adventure we both enjoy.

Workouts

I have been slowly but steadily increasing my walking and resistance work. For resistance exercise I have been using, primarily, BodyLastics bands, but a couple or weeks ago I added a few kettlebell movements. I love my kettlebells.

Last week, the cardio rehab people called and I went for an interview and orientation, which meant a small workout to familiarize me with the routine and equipment. When I mentioned I had been doing a little kettlebell work, they suggested putting that on hold for a while longer. What I have heard is you should allow yourself, on average, six months for recovery. Pushing the boundaries too soon isn't the smartest course of action.

The cardio rehab facility looks like a typical cardio room at a commercial health club, but with the addition of nurses and medical monitoring devices. There are treadmills, upright and recumbent bikes, and rowers. Heart rate and blood pressure readings are taken before and after your workout, and you are wired to monitors as you exercise. For good reason, the training is structured and watched; a rehab trainer circulates as people workout. No one comes in and just does his or her own thing. And a cardiologist is always on duty right across the hall.

Each workout is one hour. The bulk of the hour is spent on cardio equipment, with some resistance work and balance exercises following.

I stayed for a few minutes after my orientation to watch some of the resistance and balance training. The trainer was excellent, but working with cardiac patients, not longtime fitness buffs. So it looked pretty tame. I thought to myself that it was not long ago when I was the person in the middle of an exercise room leading physically fit men and women through some pretty challenging workouts. But it is time to put my ego aside. This is cardio rehab, and I am there because I had a heart attack.
---
---
---
You've probably heard about the tremendous benefits of weight training and how you can retain -- or even reclaim -- the attributes of youth . . . Discover the way with . . .

Gray Iron: A Fitness Guide for Senior Men and Women

---
---
---

Newsletter Policy

The Gray Iron Fitness Newsletter is a free publication sent twice monthly to subscribers. The purpose is to provide honest and realistic fitness information for people age 50 and above.

I have never been paid or received compensation of any kind to write a positive review or endorse a product. If I say that I personally use a product or service, it is because I find value in it and have paid for it with my own money.

Like newspapers, magazines and television, this newsletter and my web site contain advertising and marketing links. Naturally, I am compensated for these.

The newsletter and web site provide information to help users establish and maintain a fitness lifestyle. But fitness information is not the same as fitness advice, which is the application of exercise and dietary practices to an individual's specific circumstances. Therefore, always consult with your physician for assurance that fitness information, and your interpretation of it, is appropriate for you.

Your comments and questions are always appreciated. Simply click on the "Reply" bottom.

Sincerely,

Logan Franklin
The Gray Iron Fitness Newsletter
www.senior-exercise-central.com
---