Hi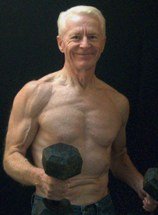 March 1, 2018
In this newsletter . . .
Old School vs. Today
I've belonged to or worked out in a lot of different gyms over the years. Some, when I was young, were "Big Iron" sweat palaces with lots of grunting, groaning, strutting . . . and where weights were often ceremoniously dropped to the floor after a set or lift was completed. Ed Yarick's in Oakland and Walt Texiera's in Hayward, California, were like that. Don't get me wrong, they were great places; but they also followed the code of machismo. Unless you had true muscle-head aspirations you didn't hang around. I had true muscle-head aspirations.
Back in those days, the 1950s and early '60s, you'd never find women lifting on men's days, Alice Yarick and Abbye Stockton being two of the few exceptions that I knew about. There were always separate spaces or separate hours for men and women. If you're under 60 you might think I'm making this up, but I'm not. I know there are some people today that still prefer separation of the sexes in health clubs. But they aren't the rule.
Was it better then or better now? Personally, I think having women in the gym at the same time as men tends to have a civilizing effect on gym behavior, in most instances. On the other hand, have today's gyms lost some of their ruggedness? You can walk into a modern health club nowadays and find some members halfheartedly pedaling recumbent bikes while reading a magazine or playing with a smartphone. Be careful, you think to yourself. You might break a sweat. In days gone by, he or she would have been ridiculed out the door. Get lost fella! Or lady! If you're not sweating like a workhorse or eking out that last maximum effort rep, well, you're just taking up valuable space.
I work out at home now. And I'm an ancient. In the last health club where I worked out (a couple of years ago) there was a mixture of training intensities. Most members moved efficiently through regular routines. A few trained very hard, though there were no Olympic style lifters or Big Iron bodybuilders. It was a clean, civilized place and boisterous behavior (but admittedly fun in my youth!) wouldn't be tolerated. If you wanted to lift heavy, fine. If you chose to sleepwalk through a routine, no one would care about that, either. Personally, though, I was there to workout. Not stand around. But at my age, I prefer today's live and let live gym attitude.
Yet some old school habits really were decidedly better than today's. For example, I don't see many training partnerships these days, people who regularly work out together. In the old days training partners were the rule not the exception. You would count your partner's reps and if he wasn't giving a 100-percent effort, you'd chide him to get going. Three people training together were even better than two. The recovery time always seemed perfect with each of you doing a set in consecutive order. And when squatting or bench pressing there was always a spotter at each end of the bar. One thing we should borrow from the past is having a training partner or two. Your progress will soar.
I've never worked out at a Cross Fit gym, but I've watched some of their videos and the atmosphere kind of reminds me of old school gym camaraderie. And several years ago, I went to one of Pavel Tsatsouline's kettlebell workshops and got a similar feeling of people urging one another on. I can't imagine people sleepwalking through workouts in those places.
Of course we always have the option of creating a home gym, if we tire of commercial health clubs. They can be as spartan or as elaborate as space and budgets dictate. But even in a home gym, training partners can boost your enthusiasm and speed up your progress.
* * *
Side Split Squats
Looking for a great all around leg exercise that can be done with bodyweight only? Look no further. The Side Split Squat does it all. Take a look.
Spring is in the air, and summer's coming. Muscle up!
To your vibrant good health,
Logan
---
If you like the newsletter, we're making it easy to share it . . .


---
---

Newsletter Policy

The Gray Iron Fitness Newsletter is a free publication sent twice monthly to subscribers. The purpose is to provide honest and realistic fitness information for people age 50 and above.

I have never been paid or received compensation of any kind to write a positive review or endorse a product. If I say that I personally use a product or service, it is because I find value in it and have paid for it with my own money.

Like newspapers, magazines and television, this newsletter and my web site contain advertising and marketing links. Naturally, I am compensated for these.

The newsletter and web site provide information to help users establish and maintain a fitness lifestyle. But fitness information is not the same as fitness advice, which is the application of exercise and dietary practices to an individual's specific circumstances. Therefore, always consult with your physician for assurance that fitness information, and your interpretation of it, is appropriate for you.

Your comments and questions are always appreciated. Simply click on the "Reply" bottom.

Sincerely,

Logan Franklin
The Gray Iron Fitness Newsletter
www.senior-exercise-central.com
---