Hi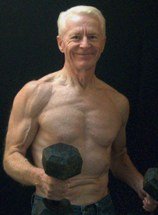 ---
October 1, 2013

In this newsletter . . .
Gym Memberships
Down The Rack Workout

---
Gym Memberships
I thought when I gave up my gym membership a couple of years ago I was finished for good training at a health club. I started working out at home and liked it. My exercise space was small, but the equipment quite adequate: kettlebells, dumbbells, and resistance bands. For cardio, there are miles of trails in open space next to my home.

Things were going smoothly and I sure didn't miss having to drive to a gym. The only problem was that my wife, Patty, who trains with me, simply doesn't like working out at home. Her workouts became hit or miss. So a few months ago I capitulated and we joined a health club. Now, I have to admit I'm enjoying it.

It is in a modern office building of a major technology company but managed by the people from the Club One fitness chain. This isn't meant to be a commercial for Club One. But I will say that our experience with them has been very positive. Their rates are straightforward without gimmicks; the staff is friendly, professional, and the equipment first rate.

I've belonged to several gyms over the years and what I consider to be good ones now has evolved and matured over time. I was 16 when I joined the famous Yarick's Gym in Oakland, California, and you couldn't ask for a better introduction to weight training than Ed Yarick. I hope you'll read about it here. It really was quite an experience.

After high school and then a tour of duty in the Marines, I joined Walt's Gym in Hayward, California. Walt's was also noteworthy. I was young, really into training, and loved the camaraderie of working out with like-minded guys. We trained hard, but there was also lots of horseplay, and practical jokes ruled the day. I still laugh when thinking about some of the antics.

I'm sure there are some old-school commercial gyms today that would fit into the category with Yarick's and Walt's, though I'm afraid they aren't for me anymore. Nowadays, I like to go in, workout, and go home. No lingering. And discovering the tip of a peeled banana in the toe of someone's sneakers wouldn't seem as funny today as it did back then.

I hope you don't think that my gym today sounds too genteel to be any good. That would be wrong. There are young, strong people working out there. Yes the place is impeccably neat and clean. And that's a plus, in my book. Things weren't always that way in the old days. And you don't hear exaggerated and narcissistic grunts or groans during exercises, either. Nor is there the olfactory experience of overripe workout gear stashed in battered lockers that haven't been aired out in weeks. Cleanliness is next to godliness.

So I'm up there in years, and tastes change. If this sounds wussy I'll risk it: I do enjoy the more business-like atmosphere of this gym. The old days were fun. But in my new environment I don't think anyone would even dream of doing the banana-in-the-shoe gag.
---
---
Down The Rack Workout
Reprinted from Living The Fitness Lifestyle, trainees focusing on a lagging body part or region may want to try a high-intensity workout that was sometimes practiced by the late, great Steve Reeves. However, it is not a workout for beginners. -LF

Generally, I don't practice what most people call "high intensity training," or HIT. At the same time, I do believe in mixing things up, trying different workouts and styles. We all have different preferences. Try it and judge for yourself. Reeves was amazing. And one thing for sure: It will be a workout!

Let's say you want to focus on your shoulders, and you are able to complete, in good form, a maximum effort of pressing overhead two 60-pound dumbbells for between 8 and 12 reps.

So you begin by pressing the 60-pounders and finish the set when you cannot do another rep in good form. In other words, you would have to cheat the weights up by push-pressing them, using leg drive.

Rest 30 seconds and drop the weight 10 pounds to the 50s and do as many reps as you can in good form.

Rest 30 seconds and drop the weight again by 10 pounds.

Repeat until you have completed 6 sets with 30 seconds rest between each set. By the final set you'll be using 10-pound dumbbells if you began with 60s. And your shoulders will be screaming for mercy!

(If you find it easy to do 12 reps on any set, use the same weight on the following set.)

Younger trainees who are in good shape may want to pick one exercise for each body region, following the same 6 sets, down the rack pattern.

However, this is high intensity work, and older trainees may want to use a more conventional and less intense routine to round out the rest of their workout.

For exercises where much heavier weights are normally used, such as squats and bench presses, make 15- or 20-pound reductions for each set.
---
---
You've probably heard about the tremendous benefits of weight training and how you can retain -- or even reclaim -- the attributes of youth . . . Discover the way with . . .

Gray Iron: A Fitness Guide for Senior Men and Women

---
---

Newsletter Policy

The Gray Iron Fitness Newsletter is a free publication sent twice monthly to subscribers. The purpose is to provide honest and realistic fitness information for people age 50 and above.

I have never been paid or received compensation of any kind to write a positive review or endorse a product. If I say that I personally use a product or service, it is because I find value in it and have paid for it with my own money.

Like newspapers, magazines and television, this newsletter and my web site contain advertising and marketing links. Naturally, I am compensated for these.

The newsletter and web site provide information to help users establish and maintain a fitness lifestyle. But fitness information is not the same as fitness advice, which is the application of exercise and dietary practices to an individual's specific circumstances. Therefore, always consult with your physician for assurance that fitness information, and your interpretation of it, is appropriate for you.

Your comments and questions are always appreciated. Simply click on the "Reply" bottom.

Sincerely,

Logan Franklin
The Gray Iron Fitness Newsletter
www.senior-exercise-central.com
---