Hi


---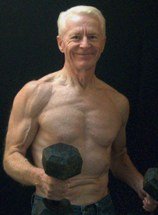 June 15, 2016

In this newsletter . . .
The Cross Training Advantage
Discover Home Gyms

---
The Cross Training Advantage
I like cross training for two big reasons.

First, doing varied exercises and workout routines keeps your interest high. Even the most dedicated exerciser can get tired of doing the same thing month after month.

Second, over-use injuries are much less likely when you mix things up. Think of the dedicated jogger with worn out knees from years of the same old pounding on the joints. Or the year after year maximum-poundage bench presser with blown-out rotator cuffs.

There's nothing wrong with running or bench-pressing — when done properly and within reason.

Cross training goes a long way toward taking care of the "within reason" part. With varied training, you are not pounding the same body parts in the same way, workout after workout, year-after-year. Instead, your body is challenged in a much more balanced way.

Suppose, for example, your workout cycle involves three 30- to 45-minute resistance-training sessions weekly, and three 20- to 30-minute cardio days. Typically, that might mean three days of the same bodybuilding exercises, and three days on the same treadmill or running path at pretty much the same pace.

Instead, imagine how much more interesting a cycle such as the following would be:
Day 1. Upper-body weight training. Five sets of 5 to 8 reps for each exercise. Lower reps allowing you to use heavier weights.

Day 2. Thirty-minute Fartlek, a nice outdoor run, alternating your pace: jog/run/walk/sprint, etc.

Day 3. Lower-body weight training. Five sets of 5 to 8 reps. Lower reps allowing heavier weights.

Day 4. Group aerobics class.

Day 5. Upper-body weight training. Two to three sets of 10 to 15 reps per set. Same exercises as day one, but with lighter weights and higher reps.

Day 6. Twenty minutes of sprint intervals on a stationary bike.

Day 7. Rest.
This is just a sample. The possibilities are almost endless. Mix in cardio exercise classes, swimming, bodyweight calisthenics, hill sprinting, weight training, hiking, and exercise band workouts. All of them are good if following a program for general, all around fitness. Just be sure to get in at least two resistance-training sessions and three cardio workouts per week.
And don't overdo it. Long, arduous workouts day after day are not the way to go. Whether at the health club or at home, make workouts concise and focused.
---
If you like the newsletter, we're making it easy to share it . . .


---
Discover Home Gyms
Having a home gym is convenient. You don't have to drive anywhere, never have to wait to use a piece of equipment; and you can workout at any time that pleases you, day or night. The equipment needed for a home gym doesn't have to be expensive either (though it can be, depending on the type you decide on).

You can get good workouts with a few simple options, such as a set of dumbbells and an adjustable bench, or kettlebells, or resistance bands. Add some bodyweight calisthenics and a stability ball and you're covered. You don't have to break the bank. If you want more equipment later on, you can always add to what you have.

Check out George Boedecker's home gym for an example of a complete facility where strength athletes at the highest level would find everything they need. I think you'll agree, it is a well thought out home gym.

Terry Overstreet's gym is another good example to look at. He bought his equipment second hand, designed it around Cross Fit training concepts, and he trains outdoors.

Bob White mixes free weight dumbbells with a Total Trainer, expanders and various other exercise options.

Here is my own home gym equipment.

Gather ideas for your own home gym from these examples.
---
---

Newsletter Policy

The Gray Iron Fitness Newsletter is a free publication sent twice monthly to subscribers. The purpose is to provide honest and realistic fitness information for people age 50 and above.

I have never been paid or received compensation of any kind to write a positive review or endorse a product. If I say that I personally use a product or service, it is because I find value in it and have paid for it with my own money.

Like newspapers, magazines and television, this newsletter and my web site contain advertising and marketing links. Naturally, I am compensated for these.

The newsletter and web site provide information to help users establish and maintain a fitness lifestyle. But fitness information is not the same as fitness advice, which is the application of exercise and dietary practices to an individual's specific circumstances. Therefore, always consult with your physician for assurance that fitness information, and your interpretation of it, is appropriate for you.

Your comments and questions are always appreciated. Simply click on the "Reply" bottom.

Sincerely,

Logan Franklin
The Gray Iron Fitness Newsletter
www.senior-exercise-central.com
---