Success at 66
by Terry Overstreet
(Modesto CA USA)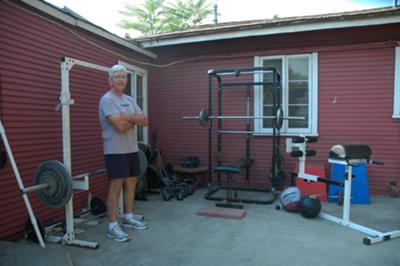 Terry Overstreet's Gym
In the summer of 2007, I went to visit my son and grandson in the Pacific northwest. My grandson wanted to show me a tree that was located down by the river. I asked my son how long the hike would be, because at the time I was a little heavy, 300 lbs heavy. He said no problem, just a short hike. It about killed me.


Then the next day we went to the ocean and had to hike over some sand dunes. I came home tired and in pain and decided that it was time to do something about my fitness. I was 64 years old and really didn't know where to start. The times I tried going to the gym in the past ended up in boredom and frustration, so I just started walking.
I sat down and figured out what foods were best for me and created a diet around those foods. I remember well the first day that I was able to walk 3 miles without stopping. It was my first real victory.
Then one day I saw a TV show about kettlbells and was fascinated by them. I ordered a CD about them, then finally picked a couple up and tried to teach myself how to use them. I soon found out that I needed help and found a local trainer.
The trainer happened to be the owner of a CrossFit gym, and after a few sessions of kettlebell training he told me about the CrossFit program that I could follow on the web.
At first I thought that what these people were doing was insane. What I soon learned was that you were expected to scale down the workload to fit your level of fitness.
To make a long story short, I have now been following the CrossFit program for over a year. I work out at home. I have lost over 90 lbs, 8 inches around my waist, and have put on an inch around my arms and 2 inches around my chest. At 6'2", I still would like to drop about 15 lbs.
I now follow the Paleo/Zone diet and feel better than I have ever felt in my life. No more joint pain and my blood pressure has dropped significantly.
My gym is outside. In the fall I move everything under a carport where I have a pull up bar and rings. The weights, smith machine, and squat rack all bought second hand. The glut ham developer, or roman chair as some people call it, is to me the most important piece of equipment that I have.
My advice to anybody starting a workout program is to get proper training. I see two reasons, first to limit injuries, and secondly so that you can get maximum results. I have been injury free now after 2 years of training as hard as I can. So be careful and remember, the only person that you have to compete with is yourself.