From near death, to ultramarathons.
by Roberto Villarreal
(Spokane Washington USA)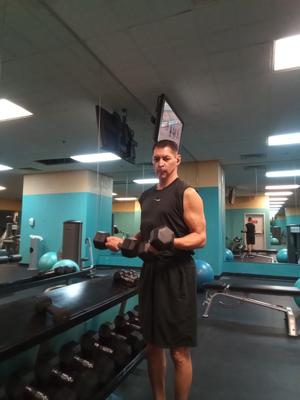 This was a post I made immediately after completing an ultramarathon. Please excuse the poor writing. I wanted to publish my thoughts immediately after achieving this goal. It was an emotional day. I hope someone can relate to my approach, or that it may help other seniors to set higher goals, despite their obstacles, or physical limitations. Here's the original post I made on the fitness app:


Does a 65-year-old achieve 130,372 steps in 24 hours? Furthermore, get 1851 active zone minutes, and over 10,000 calories burned that same day! What's my process?
For a thorough explanation, the process must be divided into two parts. Part 1 would be the necessary mindset. And Part 2 would be both the physical training, and game plan for success.
Part 1. THE MINDSET
There wasn't a specific moment when I decided to do something extraordinary. It was a process of about 18 months.
Starting on that day I decided to give life another chance. And ending, the afternoon of January 9th, when I knew I was ready both physically, and mentally.
In July 2021, after a series of tragedies, I became very ill. My doctor gave up on me and approved hospice. I knew my days were numbered. I was dying of malnutrition while suffering from intolerable grief, and severe depression. I had primarily been on a liquid diet for 3 years, with no end in sight.
After full-time caregiving for 3 years. I had lost my girlfriend Pam, to cancer, a year earlier. It was the most traumatic moment in my life. To wake, and see her breathless. She had been so thin, and weak. I watched her suffer excruciating pain for several years.
Words can never describe my love and respect for her. I felt I had failed to keep her healthy. For various reasons, I also lost contact with the few friends, and family members I occasionally spoke with.The bottom line, I was sick, sad, dying, and totally alone.
Eventually, one day, I was actually laying in the same spot on the bed where I watched my Pam get weaker every day. I had now moved to her side of the bed because I was beginning to have difficulty taking those few extra steps to the bathroom. I couldn't avoid imagining all the pain and suffering she endured in the same position I was dying in, myself. The emotional anguish was unbearable.
If I was to live on. I had to make sense of why this angelic person had suffered so terribly. My only answer was that it was a matter of fate. She entered my meaningless life, for a reason. And she left as she did, for a reason.
I then realized it wasn't meant to burden me. On the contrary, the experience was meant to help change my perspective on life.
I felt overwhelmed with gratitude. And I knew I had to develop her courage. While helping others suffering from health issues, as she once did. But first, I had to get healthy. And I knew it required more isolation.
Thus, my mindset is driven by GRATITUDE.
I am grateful for having witnessed her extraordinary strength, ànd ability to be generous to others while enduring intolerable pain. I decided that I would need to accept pain and suffering, as a necessary component of my fitness routines. I purposely trained to a very high pain level. Although, initially most of the pain came from poor exercise techniques.
I was feeling both pains, and soreness, in all the wrong places. (Joints instead of Muscles). Maybe it was just self-imposed punishment. Out of guilt, for not working harder to keep her alive.
Nevertheless, my thought was that.... no pain would be worse than the mental anguish I would suffer, thinking of the pain she tolerated. I'd rather bear the pain of exercising, than dwell on the pain she endured.
So the first part of my mindset became PAIN IS NOT A RELEVANT FACTOR
After several weeks of wreckless, painful, and amateurish resistance training sessions. I knew I had to start working smarter. I wasn't doing any walking or running until I first wore my Fitbit in April, nearly a year later. It was all dumbbell, and nautilus resistance training.
One day I took a few inhales of indica cannabis to get my body functional. The soreness was causing my body to tighten up. And Tylenol wasn't getting it done.
Anyway, it helped tremendously with easing the tightness. But to my surprise, I was suddenly able to focus on both my joints, and muscles during each exercise. The cannabis allowed me to zero in on using the muscles, instead of the joints. My form improved immediately.
I used it again, and my movements got more fluid, and precise. So I started doing a lot more repetitions. I eventually was doing HIIT training. 500+ reps in under an hour. I had to constantly focus on both form, and pace to be efficient. Every movement became important. And the focus helped with my breathing as well. Every movement and breath mattered as I increased my total repetitions.
At age 65, I know I don't have many ultramarathons left in me. I am an injury away from being permanently sidelined.
So I use every minute wisely. Both during training, and on execution day. I plan every movement to be top quality.
I am seeking perfect symmetry in my movements. However, I am missing a significant portion of my left shoulder blade. It was used to fully replace my jaw. Hence, the nutrition problems. That's why I use dumbbells and nautilus. And why I was forced to focus on perfect balance when I started raising the treadmill speed. Lack of focus, at a high speed, while the off-balance is both stupid and dangerous.
In ultramarathons, I focus on stride efficiency. I aim to be perfectly balanced. Letting my arms smoothly push my hips and shoulders in perfect concert.
I try to focus on my forearms, a kind of steering wheel. Keeping my stride short, quick, precise, and most importantly, consistent. Just like having your hands on the car steering wheel. Balance and symmetry are key. Once you're locked into a comfortable stride that's efficient, and consistent. You execute it without thought. It's cruise control.
You will only need to focus on your forearms moving smoothly in a small space. I only focus on the rhythm of the arms, perfect balance, and breathing. The faster the pace, the more you should be locked into that rhythm. It's critical for speed walking. Thus, the second part of my mindset is ONLY FOCUS ON PERFECT FORM, BALANCE, AND BREATHING.
Obviously, the less on your mind, the less mental energy you will waste. If you have both planned, and trained properly, you only have to think about executing the plan.
In summary, here is my mindset in a nutshell.
BE GRATEFUL, WHILE YOU FOCUS SOLELY ON BREATHING, BALANCE, AND A PERFECTLY SYMMETRICAL STRIDE.
Don't move forward with the burdensome THOUGHTS of your pain, imperfections, or losses. Only move forward, with the FEELING of gratitude, that you are executing perfection.