Shirley Rupp, a weight trained grandmother takes on a mugger
She didn't expect trouble when she stopped for a Subway sandwich. And this 64-year-old grandmother of six certainly didn't expect to be on the ABC Evening News.
But a surveillance camera recorded a thief waiting outside the store and lunging at her from behind and grabbing her purse.
He picked on the wrong grandmother.
Shirley Rupp, a Tucson, Arizona real estate broker, whirled around the surprised mugger, wrestled him for her purse, and then gave chase. "I am a pretty fast runner for a little distance, but I had on flip-flops," she told ABC News afterward.

Maybe the thief was lucky she wasn't wearing Nike's or Adidas.
Shirley was nice enough to agree to an interview about her fitness and training. The interview follows:
Q. Most seniors probably wouldn't be strong or fit enough to fight off a mugging by a much younger person. How did you manage it?
 
A. I don't consider myself super strong or fit, but I do my best to stay in good physical condition. I think our thoughts about our body, our health and our abilities have a huge bearing on what we can accomplish. I reacted before I thought and my instincts and adrenaline took over.
Q. You're obviously in good shape. Are you an outdoorsy person?
 
A. I love the outdoors and do as much outside as I can. I enjoy walking, moderate hikes, bicycling, horseback riding and even play a little golf. I skied when I lived in Colorado, but don't do much of that anymore.
Q. Do you workout at home or at a health club or gym?
 
A. Both, but find I am more focused when I go to the gym.  I take some Yoga classes and love Pilates, but just don't have the time for everything.

Q. At what age did you begin training and what motivated you?
 
A. I was pretty active as a teenager and was a "Pom-Pom" girl in High School, but I really became interested in weight lifting in my mid 30's.  My motivation was first to look better; my muscles defined easily and I loved my arms and back!  Now that I'm older, I do it more for the health benefits.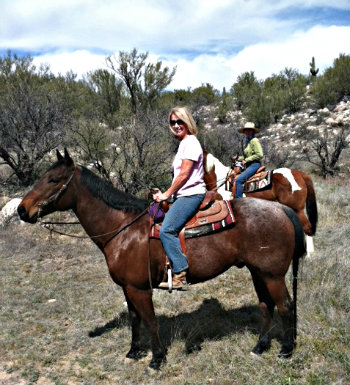 Q. What kind exercises do you do: Weights, aerobics classes, etc., or a combination of things?
 
A. The gym I belong to now only has cardio equipment, weight machines and free weights so that is what I do mainly.  I take a Yoga class at a Yoga studio once or twice a week and walk, ride my bike or horseback ride as often as possible.
Q. What's your diet like?
 
A. Overall, pretty good. I'm fortunate to love fruits and veggies, but also love bread and cookies! I eat very little red meat, but love a hamburger or a steak occasionally. Lots of chicken and fish and salad. I've tried low or no carb diets but they just don't work for me; I'm much better off to keep a healthy balance of most everything.
 
Q. Do you take vitamins or any kind of food supplements?
 
A. I take multivitamins regularly and add protein powder to my smoothies, but that's about it.

Q. Do you try to influence your children or grandchildren to live a fitness lifestyle?
 
A. My children are both very health conscious and exercise regularly. The grandchildren are all involved in some type of activity (sports, martial arts, dancing, horseback riding). We are all pretty "balanced," doubt that anyone will be an Olympic champion, but everyone keeps active.

Shirley, it's a great story that ended well. Thank you for sharing your thoughts on fitness with other like-minded seniors who believe in strength, fitness and staying in shape.  -LF, Senior Exercise Central and The Gray Iron Fitness Newsletter.

Return from Shirley Rupp to the Muscle Stories Page.