Still luvin my workouts!
by Franco
(Western Colorado)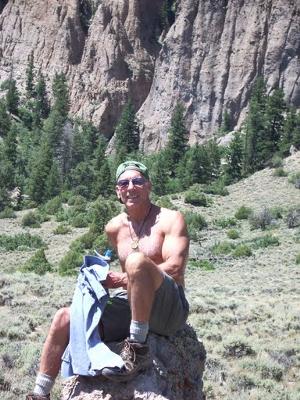 Resting during a Colorado hike!
I'm just a few weeks shy of my 62nd birthday. I inadvertently discovered 'weight lifting' (as it was called in those days ), when I was about 14 years old. A neighbor kid, 2 years older than me, had a set of barbells in his basement. He invited me over one day, and one workout was all it took to get me hooked for life.


I worked out regularly until about age 22, after which time I spent little time in the gym. At age 19 I benched pressed 290lbs with a two second pause on my chest and no back arching. I weighed about 175 at the time. I was a pretty strong kid. After age 22, I lived such a physically active lifestyle for the next 15 -20 years that I rarely visited the gym or touched a barbell. I was doing such things as building log cabins and cutting firewood. I made my livelihood as a tree-planter in the forests of British Columbia. These activities kept in in good shape without going to the gym.
I started back with weight training in 1989, and I've missed only a few weeks here and there between then and now. My longest layoff was 6 weeks. Quite honestly, I'm addicted to working out with weights.
I've eaten a vegetarian diet for the past 39 years, with occasional fish during the last 2 years. My current body-weight is 165+ or - a couple of pounds.
Most of my workouts since 1989 have been with weights that allowed for 6 to 12 reps. I recently made a big change. I am currently using lighter weight that allow for 15 to 25 reps. Using lighter weights with higher reps has completely revitalized my workouts. I switched to lighter weights because I felt that I wasn't getting much out of the heavy weights, I dreaded my workouts, and my joints were hurting. With the lighter weights, I'm having fun, I luv the pump, and I'm looking forward to my workouts again!