An Interview with Tim Dugas

Tim Dugas, after 33-1/2 years as a Staff Information Systems Analyst with the State of California, retired to change careers to be a personal trainer for 24 Hour Fitness.
He is 55, married to his wife, Joyce, for 32 years, and resides in Sacramento, California. They have a son, Brian (24), a special effects sculptor living in Bellevue, Washington.
He is affectionately known as "T-Rock" or "The Essence of Fitness" by his workout partners at the gym.
The following interview is about his life and training philosophy.
--Logan Franklin, 8/28/03

Logan: Tim, when did you begin weight training? What got you started?
Tim Dugas: As is all too often the case, I was a "late bloomer" when it came to doing something about the general state of my health and fitness. While I'd always enjoyed good health growing up, I increasingly began noticing the troubling effects of my sedentary lifestyle as I approached middle age. While my daily habits were never really "out of control", it was increasingly clear I was neglecting both my weight and the level of my physical activity as I grew older.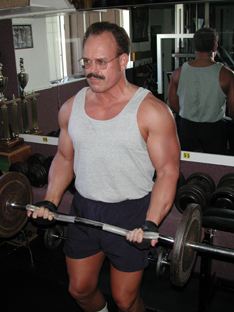 As best I can recall, in mid-1995 my concern became alarm after I saw a series of family photos taken of me showing pronounced jowls and a distinctly paunchy midsection. That experience galvanized my resolve to do something about my physical condition before it got any worse.
After a brief flirtation with trying to develop an exercise routine for myself at home (and giving up in frustration), in November, 1995, my wife and I joined the 24 Hour Fitness location in our neighborhood. Initially, our interest was solely in aerobics and group exercise along with getting some much-needed nutritional counseling. We loved the new activity and saw immediate results!
However, a funny thing happened along the way…I was introduced to the selectorized and free weight strength-training equipment available -- almost by accident. I actually started because I was getting a little bored with my aerobics-only program and wanted to know what else the club had to offer. I'd been increasingly curious about the "science" and the mechanics behind what I was doing physically, so I approached a personal trainer to put together a "beginner's" lifting program for me. While I liked using the preset selectorized machines, from the moment I first picked up hand-weights and used barbell weights I knew I'd found my real element -- IRON!
As a result, my passion centered more and more on strength training and I found it a struggle to continue as ambitious an aerobics routine as I'd been following. Eventually, however, I found a comfortable balance and have continued to pursue my commitment to fitness in the years since.


Logan: Before that, were you physically active? Did you participate in other sports or have outdoor interests?
Tim Dugas: Let me put it this way, before I started going to the gym if you'd looked up "Couch Potato" in the dictionary you'd have seen my picture. I was just lucky I had the genetics to have gotten away with doing so little exercise for so long and not paid a higher price for all that inactivity.
It's a sad fact that even when I was in high school I managed to sidestep many P.E. activities to spend more time assisting in the school library. For whatever reason, I was just never interested in "athletics" per se, and even to this day I don't understand or follow team sports of any kind.
However, I do consider that I lived an active lifestyle. As kids, we all rode bikes (sometimes very great distances) and engaged in physical play. There were no video games or malls to go to, so we created our own entertainment. I walked a lot and my family was always spending weekends at the beach or camping in the mountains. So I guess I can say I do have a love for the outdoors.
After I began my career with the State, got married, and started a family, free time became more and more of a premium and instead of finding alternative ways of staying active I just slowly let myself get out of shape. And doesn't that sound like a hauntingly familiar story?
Logan: As you know, having interests and goals to fulfill in retirement are crucial for many reasons. When did you decide to dedicate yourself to becoming a personal trainer?
Tim Dugas: I think the germ of the idea began when I turned fifty. That mid-life demarcation point is the big one for most people and it started me thinking about what I was doing with my life. I have enjoyed a long and satisfying career in State government, working with wonderful people and providing much needed services to the citizens of California. But most of my career activity has been administrative in nature -- big projects with long time frames. More and more, I found I was longing for a job that would put me in closer contact with my "clients" and more clearly deliver a measurable benefit to them. Around this time, two significant things happened for me.
First, State government modified its retirement formula -- making it possible for me to consider taking an "early retirement" and find another focus for my life. Second, friends from the gym, those who knew me well enough to see how passionate I was about fitness and sharing health and wellness knowledge with others, began to encourage me to consider turning my avocation into a new career and becoming a personal trainer. Their suggestion caught me completely off guard!
However, the more I thought about personal training and learned about the fitness industry, the more I began to believe there might be a future opportunity in it for me. As I warmed to the idea, other trainers at my 24 Hour Fitness location encouraged me, provided insight into what the job would entail, and ultimately gave me the greatest gift of all--an educational direction to take.
Logan: What educational and other preparations have you made for your second career?
Tim Dugas: You know, it's said that things turn out the way they do for a reason and I truly believe that. In this case, just as I was casting about for a way to begin exploring a career in fitness, a perfect solution presented itself right on cue. It just so happened that American River College here in Sacramento had been developing a Fitness Specialist Certification program for people interested in entering the health and fitness industry. The certification courses would encompass the basic elements necessary to qualify for entry-level employment in several areas of the fitness industry.
Now here's where serendipity struck. I had begun developing my plan to retire from the State in early Spring 2002. At that same time, American River College was putting the finishing touches on their Fitness Specialist program, scheduled to begin with the Fall 2002 semester. Of course, I knew nothing about this until (again) one of the trainers at the gym mentioned to me she'd heard about this brand new program at ARC and encouraged me to check into it if I was interested.
The program was so new that when I approached the college for information, they at first had no idea what I was referring to. Finally, I was directed to the Physical Education staff who gave me enough information to determine it was just what I was looking for and get myself enrolled.
I can't tell you what a providential opportunity this has proven to be for me! While I was initially willing to settle for just a basic exposure to what the career field was all about, I underestimated the impact that going back to school would have on me and on my daily routine.
First, I rediscovered my love of learning. Not just "being trained", but learning about something I truly had an interest in. I won't sugarcoat the experience, it was hard -- very hard. The classes were intensely focused and placed extraordinary responsibility on the students to keep up with the ambitious reading assignments and required projects. But I warmed to the challenge and found that the curricula was really fascinating to me, especially the physical science behind it all.
Second, I knew I needed to have my first exposure to the information in a "traditional" classroom setting. Little did I know that the instructors selected for the program would be so supportive and committed to the success of both the students and the overall program. Looking back, I certainly couldn't have done as well as I did without their knowledge and enthusiastic assistance.
Third, I met some of the most interesting people I've ever known among my fellow students. As time went on, it really became a team effort on our part. We came to class early and stayed late to discuss what we were learning. We especially shared copies of interesting articles we'd run across, good web site references, and great books and software resources. I can honestly say that I benefited as much from sharing discoveries with my fellow classmates as I did from learning the material itself. I would not have traded the opportunity for that experience for anything!
So, in the end, after completing nine accelerated classes over the course of two full semesters, followed by eight weeks of Summer internship, I successfully completed the Fitness Specialist Certification program one week before I officially concluded my State service. Talk about timing!
The crowning result of all my analysis, planning, and hard work was just confirmed for me today. As a result of my demonstrated talent and ability for becoming a Personal Trainer, my 24 Hour Fitness location (where I've been a member for nearly eight years) has selected me to join their training staff. As "Employee #8045" I'm not only joining a topnotch team, but in a month or so we'll be moving to a brand new facility currently under construction for us! It's the culmination of so many unexpected occurrences that I often find it incredible to believe it's really happening.
As for the future, 24 Hour Fitness will assist me in adding at least two "nationally recognized" certifications to my resume -- AFAA (Aerobics and Fitness Association of America) and NASM (National Academy of Sports Medicine). Since I love strength training, I also want to become a certified trainer through the NSCA (National Strength and Conditioning Association). So, as far as my educational experience goes, I've only just begun to scratch the surface of my development!
Logan: Let's switch over to your own training for a minute. Tell us about a typical weight training workout and how often you train. Do you typically do split routines or full body workouts?
Tim Dugas: Logan, I'm going to have to ask for some forgiveness here because I know so many friends and gym-mates will be reading this! But with all the disruptions that have gone on in my life over the last year or so, I have not been able to follow as predictable a workout program as I'd like or as I enjoyed in recent years. However, with that said here's what my routine looks like.
First of all, I'm an early-riser. I often go to bed by 9:00 p.m. so I can get up at 2:00 a.m. After I prepare for my workday, I try to arrive at the gym no later than 5:00 a.m. -- earlier if possible. I work out with several partners, so I always look forward to our getting together each day.
I typically train Monday through Friday, but it's not unusual for me to include a Saturday or Sunday if I've had to miss a day during the week. Sometimes I'll go in just for a light workout or to get in a little extra cardio. Since I've been a member of my club for so long, I'm never at a loss for meeting up with someone I know whenever I happen to be in the gym!
I guess right about here I should point out that I'm really a "social animal". Friends often tease me that I spend more time visiting than I do working out, but I truly like to have fun while I'm in the gym. Like a bee, I network like crazy and try to cross-pollinate as much information with others as I can. I admit that my lack of concentrated focus would probably bother some people, but I think I've provided a lot of benefit without too much disruption in our exercise routine.
In our workouts, we focus on the principles of "specificity of training" and "muscle confusion". In other words, we do very specific exercises to work specific muscles and we change our routine often to keep our bodies guessing what will come next. Over time, we've done it all -- one body part each day, 3-day rotating splits (upper/lower body), complementary muscle supersets, high-volume training/high-intensity training, push/pull routines, and of course full body programs. Our goal is always to keep things fresh and prevent our muscles from adjusting to any given routine.
Logan: Do you do cardio workouts? If so, how often and what kind?
Tim Dugas: I have to admit that I love cardio! Some people find it boring but I've turned it into my time for either reading or guilt-free visiting with friends. With the American Heart Association's latest recommendation that all adults should get at least 30 minutes of brisk cardio exercise every day of the week, I've become a firm believer that "whatever doesn't kill me makes me stronger"!
After years of using the treadmill for 30-40 minutes at a time, lately I've been using one of the Life Fitness recumbent exercycles equipped with a heart-rate monitor. Since I struggle with the usual "spare tire" around my middle, I'm trying to spend quality time in my "fat burning" zone to encourage it to go away. By tweaking the resistance intensity and my pedaling RPM, I can easily ensure that I'm encouraging my body to burn fat for fuel and not just build additional cardiorespiratory endurance. However, just as I do with my strength training routine, I regularly rotate my cardio program between exercycle, stairmaster and treadmill just to keep things fresh.
Logan: Are you satisfied, generally, with your physical condition now or are you working on anything in particular that you believe needs improvement?
Tim Dugas: Logan, I believe I can honestly say that, yes, overall I'm very happy with the benefits an active fitness regimen has brought to my life. But as you point out, that doesn't mean there isn't room for continued improvement. I still need to shed a few pounds and that's my next order of business. At 5'10", I currently weigh around 205 lbs., so I'd love to pare off about 30 lbs -- and I will in the next year. I just want to be sure I don't do it at the expense of my love of heavy lifting. I recently bench pressed 315 lbs. for a 1-rep max, and I squat 335 lbs. on our heavy leg day. To me, there's nothing I like more than moving many plates with just bio mechanics and force of will. So if I need to carry a little extra "mass" to be able to keep doing that, well that's just fine with me. In years past, I never would have thought I'd be capable of doing such things at 55 years of age -- even my gym partners are surprised at my ability to keep up with those 20 years my junior.
As for physique, I need to concentrate a little more on defining my mid- and upper-back. I just can't seem to find the right routine to develop myself further, but I'll soon have every opportunity to focus more on that weak area. Otherwise, I think dieting down will highlight my quads a little better and, of course, hopefully bring out the abs I've been working on forever and a day.
Logan: Do you have a nutrition strategy or follow a particular diet?
Tim Dugas: Truth be told, I don't. I follow the old Greek admonition: "Moderation in all things." I found out a long time ago that I have a tendency to use food as a source of comfort, so I try hard to keep from falling back into that behavior pattern. While I'm not always successful, I do try to keep healthful snacks around so at least I know I'm not too far off the mark. As for eating out, much to the consternation of my fellow diners, I often ask the wait staff to bring me a "to-go box" when they deliver my meal. I divide the meal in half before I even begin eating, that way I have the satisfaction of seeing a "clean plate" and usually still have enough food set aside for lunch the next day. Despite this type of strategy, however, I've still put on some pounds that have to go.
Logan: Do you take any supplements?
Tim Dugas: Supplements and I have a long history dating back to the very start of my exercise activities in late 1995. At that time I used a lipotropic supplement along with a good multivitamin tablet and an amino acid complex (protein) tablet. Truthfully, at the time I could never really determine if those supplements were benefiting me or not, so I eventually discontinued everything but the daily multivitamin. As the years went by and I began to read and understand the importance of proper sport supplementation a little better, I reintroduced some compounds into my daily diet. Right now, here's what I'm taking:
5 grams of micronized Creatine (Simply Creatine from EAS), 2 grams of 100% L-Glutamine powder, and 2 1/2 teaspoons of powdered Gatorade mix, blended together with ice and water to fill a 20 oz. sport-drink container. (I sip on this throughout my workout but only drink it once a day. At this maintenance level, I never cycle off the Creatine.)
Before I leave home for the gym: an 85-mg aspirin tablet, Centrum Silver multivitamin, supplemental Vitamin B complex, Vitamin C, and Vitamin E, 1500-mg of Calcium with Vitamin D, 1000-mg of natural fish oil concentrate, a full-profile amino acid complex, a 50-mg DHEA capsule, 250-mg of L-Carnitine, and an L-Arginine/L-Ornithine capsule.
Wow! I don't think I've ever written all this down before -- what a list! Aside from the established track record of the complement of vitamins represented here, I'm still not sure if the "L-" amino acid supplements are making a significant difference or not. I guess I'm still really experimenting with them based upon their original reputation with "natural bodybuilders" in the 50's and 60's.
As for my use of Creatine, in all the reading I've done -- and in my personal experience as well -- I can truly say that Creatine is the one supplement that does make a noticeable difference for me. In fact, whenever I've cycled off its use my partners can usually quickly tell. I like the results I feel I've gotten from it, so I stay on it continuously but at a low enough dosage to limit urologic issues.
Logan: Any advice for those nearing retirement and thinking about establishing a new career?
Tim Dugas: Logan, this is really a tough one to answer. Everyone must make their own way in the world and decide at each step what is best for them. Long before I was able to consider this transition for myself, I worked with others who likewise reached a branching path and decided to go a different way. I think I was always in awe of their ability to just step out of one world and into another with the firm conviction that everything would work out all right. Over the years, I've met several of them again and been encouraged by the fact that they did, indeed, survive their change of direction. I guess I'm expecting that same mysterious success to touch me, as well.
Without becoming too melodramatic, the best advice I think I can offer to others is to follow your heart. Find your true passion in life and explore it, pick it apart until you understand it inside and out. If you find that it's truly what you live for, find a way to make it happen in your life. The way is out there if you really search for it. I'll be honest with you, I'm a little scared by the prospect of this career change, but I cling to the Taoist credo that, in life, "The Journey is the Reward".
Return from Tim Dugas to Muscle Stories and Fitness Interviews